An authentic New England Clam Chowder starts with the ingredients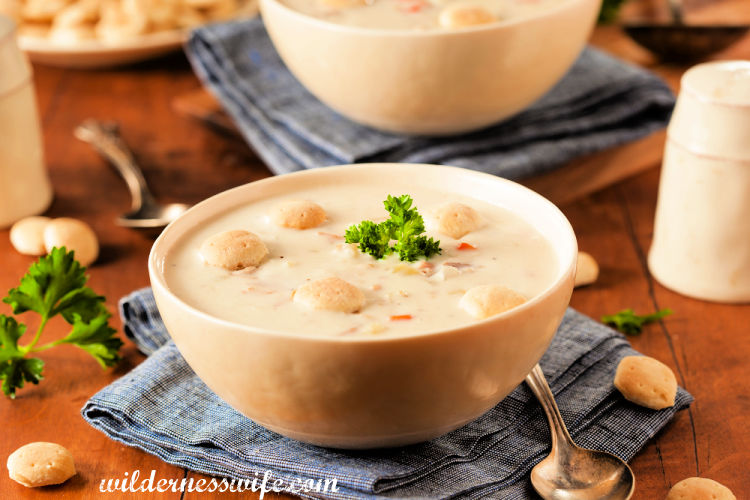 On a chilly New England night there is nothing more heartwarming and deliciously filling than a steaming bowl of New England clam chowder. As you search the Internet for an authentic New England Clam Chowder recipe, you will find there are a lot of them out there but as a life-long New Englander I will tell you that the true recipe is very simple. And its simplicity is what makes this recipe the best in my opinion. Follow this recipe and it will yield a restaurant-worthy clam chowder even for a first timer.
The list of ingredients is simple:
Fresh Clams
Clam Broth
Salt Pork
Russet Potatoes
Heavy Cream
Chopped Onion
Fresh Thyme
Bay Leaf
Kosher Salt
There are some that will tell you that you can up the clam chowder process and simplify it by using canned clams instead of fresh clams, bacon instead of salt pork, bottled clam juice instead of clam broth, and milk instead of heavy cream. But with this recipe we are talking traditional New England Clam Chowder like my Grandma used to make so if time is of the essence, I will give you this link to our Easy Clam Chowder recipe that is quicker and easier to make but definitely not as authentic or tasty.
The process starts with the clams but which clams are the best for clam chowder?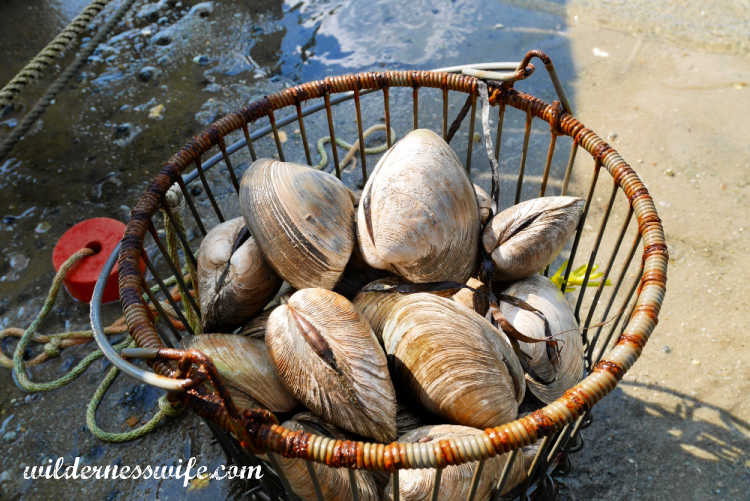 There are lots of different clam varieties out there. Some people prefer using quahogs. Quahogs are larger and more available, a favorite as steamer clams and less expensive but quahogs can also be tougher. Biting into a rubbery textured clam is not what I like in my chowder. Fresh cherrystone clams are more tender so they are the ones that I use when I make my New England Clam Chowder.
How to steam clams for your authentic New England Clam Chowder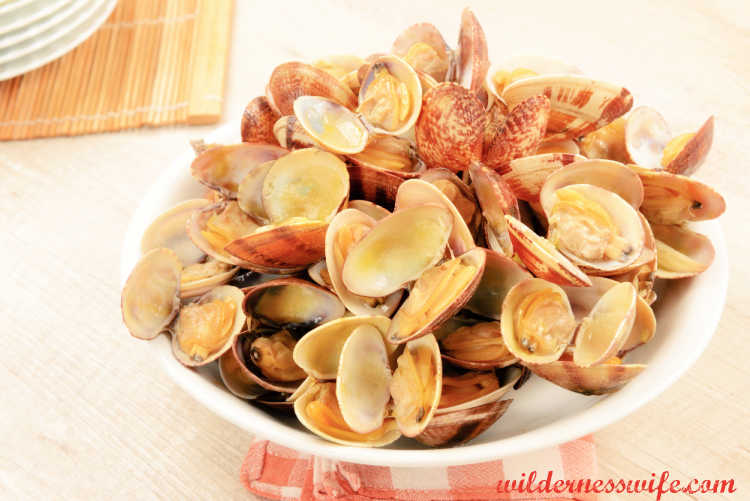 Steaming clams is very easy and as a result you also get a second needed ingredient for our clam chowder, clam broth. Some recipes will tell you to use bottled clam juice or even chicken stock (yuck, please don't use chicken stock) but pure fresh clam broth is the best beginning your pot of chowder can have. For equipment you will need a clean brush, a large pot like a Dutch oven, mesh strainer, coffee filter, and a slotted spoon. For additional ingredients, a bay leaf and two or three sprigs of fresh thyme (1 teaspoon of dried thyme if you don't have fresh).
Scrub the clam shells with a brush very well under running water.
Add 3 cups of water, bay leaf and thyme to the Dutch oven and bring the water to a full boil.
Add the clams to the boiling water and cook on high for the next 5 minutes. Stir the clams and continue to cook the clams until they just open. Do not overcook the clams. Remove clams with the slotted spoon as they open (about 8-10 minutes) and set aside. Discard any that do not open. Let the cooked clams cool then pull the meat from the clam shells and set aside. Discard shells. Cut off the dark, tough necks of the clams and discard them. The necks are tough. You only want the tender "belly" meat.
Pour the liquid that remains in the Dutch oven through the mesh strainer lined with the coffee filter. This is your clam broth. Set the clam meat and broth aside for now
Which potatoes are best for a New England Clam Chowder?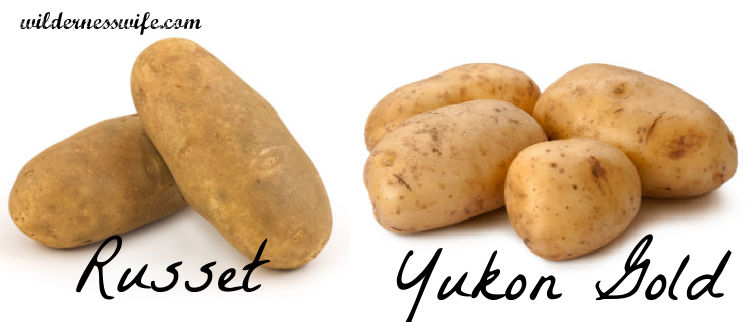 When I make my clam chowder, I use 2 types of potatoes. Here's my reasoning. Russet potatoes are very starchy but they breakdown easily and early in the cooking process. That's okay with me because then they become the thickening agent for the chowder. I don't like using cornstarch or flour to thicken my chowder and there are fanatics that feel it is a sacrilege to use them. But I also like to see chunks of potato in my chowder so for those I use Yukon Gold potatoes which though not as starchy as the russets maintain their shape. Each type of potato cooks differently so I cook them as follows. Cut both types of potatoes into consistent size cubes, about ½ inches. I start cooking the Yukon Gold potatoes first in boiling salted water. They take about 15 minutes. Keep an eye on them and test doneness with a fork. You want them just fork tender; do not overcook. I set the tender Yukon Gold potatoes aside for now and add them to the creamy chowder later in the recipe. The russets I cook right in the chowder so that they can help to thicken the homemade clam chowder base.
Salt pork, bacon, or butter for the fat content?
If you compare a number of New England Clam Chowder recipes, you will discover that some cooks use butter to cook the veggies in, others use pieces of cut-up thick bacon, and then there are those, like me, who use small cubes of salt pork. In my opinion, salt pork is the best choice and gives the chowder a special flavor. Salt pork is not something you're going to use in a lot of recipes but it stores in your freezer very nicely for those times that you need it. Cut the cubes of salt pork to a consistent ½-inch size. The salt pork will be the first ingredient you add to the pan when making this recipe and its the perfect base to create a silky-smooth texture for your chowder. If you use bacon. the bacon drippings will impart a bit of a smokey flavor to the chowder. All in all, whichever you use be careful if you choose to season the chowder with salt. There are a number of ingredients that have enough salty flavor that you will most likely not need to use additional salt.
Milk or Cream for your clam chowder?
Cream or milk? It's a matter of personal choice. I prefer cream but heavy cream has significant calories. Milk can be used or half and half and even 2% milk but don't opt for skim milk. It makes for a very watery final product. To make this a creamy clam chowder recipe use cream or at least whole milk.
Clam broth, bottled clam juice or chicken stock?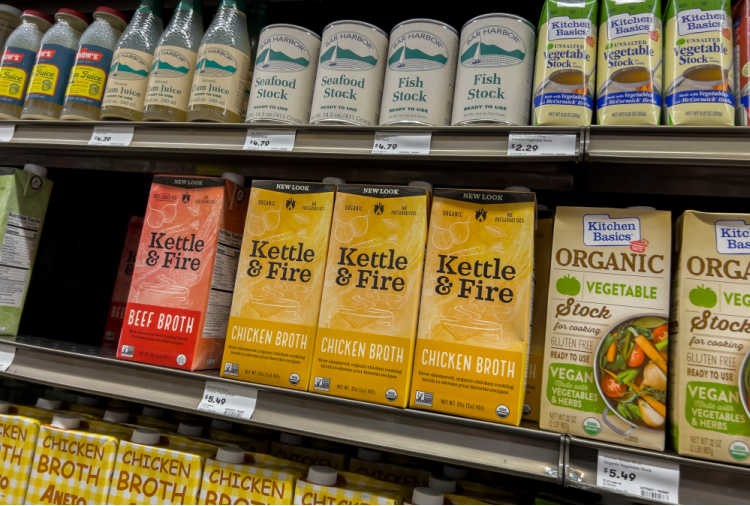 When I see clam chowder recipes that call for chicken stock, I cringe. I just can't imagine using chicken broth in my recipe. I can understand not wanting to go through the process of steaming the clams and using the resulting clam stock but a bottle of clam juice is easily available. Also here is always liquid from the canned clams that you can add water to. So, chicken stock in clam chowder is a big NO for me!
Things I avoid in my chowder
You already know I feel about chicken stock, skim milk, and butter in my clam chowder.... a big thumbs down to all of them! I also have seen clam chowder recipes that use white wine. Another big NO for me. I tried it and it gave an acidic undertone that took away from the creamy deliciousness of the silken broth. I think that some of these celebrity chefs think that they have to add wine to make a dish more sophisticated and impressive and I'll admit that it often works. But sometimes the simple rustic peasant food approach with its wholesome simplicity is the way to go, especially when it comes to favorite easy soup recipes.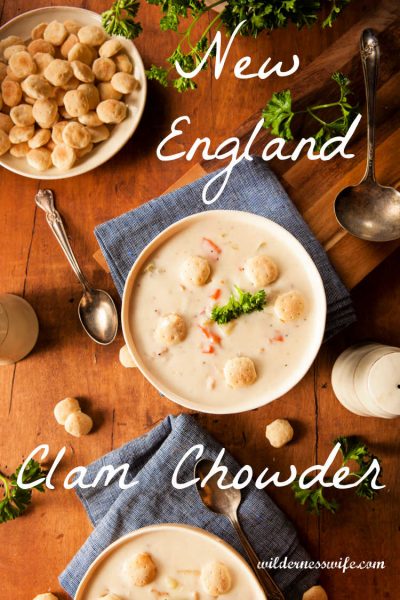 New England Clam Chowder - comfort food at its best!
From the tip of Cape Cod to the rocky cliffs of Downeast Maine, coastal New England with a bounty of delicious clams serves up the best bowls of clam chowder. Whether it's the soup course or the main dish, clam chowder is the ultimate comfort food for those chilly nights like we have here in Maine. You may call it chowder or chowdah', but you follow this recipe you will always call it delicious!
Try a few of our other authentic New England Recipes -
Print
Best New England Clam Chowder Recipe
An authentic New England Clam Chowder recipe from an authentic life-time New Englander. Try this recipe for the ultimate in creamy comfort food from Maine blogger, Sheryl Thompson, The Wilderness Wife.
1 ½ lbs fresh clams *see notes
1 quart water
1 bay leaf
3-4 sprigs of fresh thyme or 1 ½ tsp of dried thyme if no fresh avalable
4 ounces Salt pork, diced into ¼" pieces
1 large yellow onion, ¼" dice
2 celery stalks, cut into ¼" pieces
1 quart clam broth (created when you steamed clams)
3-4 large Russet potatoes, ½" cubes
1 cup heavy cream
Yukon Gold potatoes, ½ cubes cooked till fork tender
1 tsp white pepper
½ tsp kosher salt, if needed. Taste test first before adding as many of the ingredients are salty.
Instructions
In a large steamer pot with a steamer basket, 1 quart of water, 1 bay leaf and 3-4 sprigs of fresh thyme. (If using dried thyme use 1 ½ tsp.) Steam the clams over high heat till clams just open, about 10-15 minutes. Remove clams as soon as they open with a slotted spoon. It is important not to overcook clams! Discard any that do not open. They were dead are not good to eat. Place open cooked clams in bowl and allow to cool.
In a large pot or Dutch oven, over medium heat, add salt pork, Cook stirring to render the salt pork until golden brown. Remove the salt pork from pot with a slotted spoon, leaving rendered fat, and set aside for now.
Add onions and celery to pot. Cook until translucent and just beginning to turn brown.
Add clam broth.** see notes
Bring to a low boil. Add Idaho potatoes. Cook until Idaho potatoes begin to dissolve and thicken broth.
With heat on medium-low add cream.
Add clams and Yukon gold potatoes. 
Add 1 tsp. of white pepper. ( you can use black pepper, but you will see the black specks in the chowder)
Add kosher salt if needed.  Be sure to taste first, and only add if needed. The clams and the clam broth will add a lot of salt to the chowder and the salt pork will have the same effect.
Heat thru for 5 minutes and serve with oyster crackers.
Optional: You can garnish with a few oyster crackers and pieces of salt pork sprinkled on top.