Boehringer Ingelheim AH USA, reached out to bloggers like me to share our thoughts about FRONTLINE® Plus. As a participant, I received compensation for my time. Boehringer Ingelheim AH USA did not tell me what to say about FRONTLINE® Plus or my experience. Boehringer Ingelheim AH USA believes that consumers and bloggers are free to form their own opinions and share them in their own words. #PetApproved #CollectiveBias
It's spring and it's that time of the year when I start to worry about flea and tick control. Chuckles the Cat and I noticed that Walmart® has my favorite flea and tick protection – FRONTLINE® Plus for Dogs and FRONTLINE® Plus for Cats. It was road trip time for me and Malibu, my German Shepherd mobility service dog. She enjoys going to Walmart with me on my shopping trips. Off to Walmart we go!
Malibu, pictured here shopping with me at Walmart for FRONTLINE® Plus for Dogs, is my personal mobility service dog. She just retired from being a breeding dog but will continue to assist me with my physical handicap for a long time. Years of service dog training has been invested in Malibu and without her I would be forced to use a walker or cane. Malibu helps give me my freedom to do the things I want. And we, as a service dog team, have to present a responsible image when we are in public. I can't have her sitting in the middle of the aisle at Walmart scratching at fleas. I need a product that I can trust and depend on to help me keep my girl protected from fleas and ticks! FRONTLINE® Plus Flea and Tick Treatment fills the bill for me! It is reassuring to know that FRONTLINE® Plus is the #1 name in flea/tick control and that it's been trusted by vets for nearly 20 years. And I like that it works for a full 30 days killing the adult fleas and ticks on the pet and also killing the next generation of fleas.
Click on the image above to purchase FRONTLINE® Plus for Cats online at Walmart. The Outdoor Flea and Tick Season begins in early spring!
It's been a long, cold, snowy winter here in northern Maine and all the pets have had severe cases of cabin fever. They just can't wait to get outside and enjoy the spring/summer weather. Our home is positioned in the middle of 60 acres of woods and fields. It's a joy to live where we do and be able to let our pets outside to have a little freedom but that freedom does come with its consequences. Our fields and woods are populated with deer, moose, and bear that roam about leaving behind whatever little creatures are living in their fur. Deer are notorious for harboring the ticks that carry numerous diseases including Lyme disease. If you see these types of animals in your area it could indicate a higher risk of ticks. As my beautiful German Shepherds bound through that same grass as they play, the chances of their picking up a tick or two are higher. Due diligence as a pet owner makes me comb through their hair and search for ticks but the thick hair of a German Shepherd does not make it easy. I always worry that I might miss something. The cats, Chuckles and Aiko, are on patrol in the fields, yards, and barn. That's their job and they are very good at it. But that same job could possibly bring them into contact with fleas.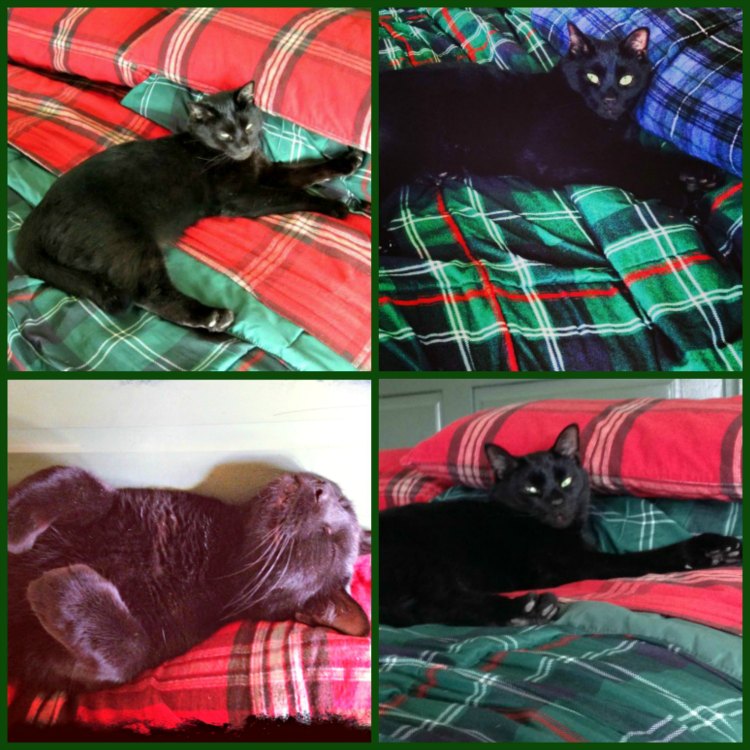 Each night as I lay my head down on my pillow, Chuckles the Cat curls up on it right next to my head. Although I love the sentiment that he loves and trusts me enough to want to sleep so close, I can't help thinking what might be lurking in his sleek dark luxurious fur. If the cats get fleas, everybody will be dealing with fleas because they will bring them into the house tucked away in their fur. It's a nasty cycle and we have to have a product that will give us an edge on protecting against an infestation. It is great to have
FRONTLINE® Plus for Cats
to protect Chuckles. I'm thinking I should be using it on him year round. FRONTLINE
®
Plus is easy to apply and only has to be applied once a month because it's effective for 30 days.
FRONTLINE® Plus is waterproof . Thank goodness for that as we have a couple of dogs who love water. Playing in the little brook that runs through our backyard is something the dogs love to do on a hot summer day. And our girl Gemma is always up for a spray with the hose when we are washing the car or watering the garden.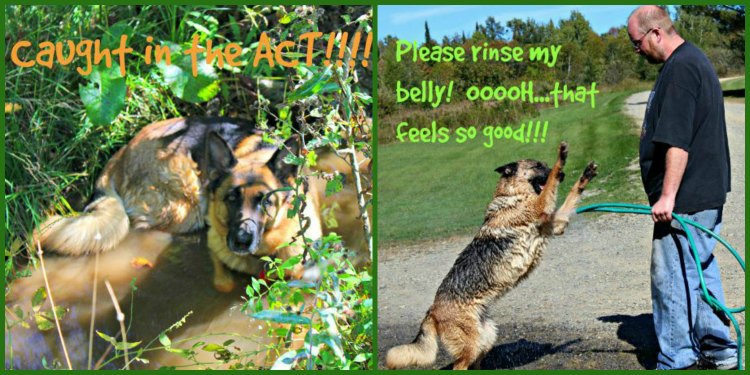 I love FRONTLINE® Plus! Using FRONTLINE® Plus helps me keep a handle on the flea and tick situation. I like being proactive when it comes to those little creepy crawlers. Once you have a flea infestation, it is a nightmare to get rid of them. Trust me, I've been there, not only as a pet owner but as a professional dog breeder. We are breeders of German Shepherds destined to be trained as mobility service dogs. Keeping our breeding females protected from fleas and ticks is very important to us. The fact that it's approved to use it on our pregnant females and litter mothers is huge for us. Our dogs are incredibly valuable to us both monetarily and emotionally, so a trusted brand like FRONTLINE® Plus gives me peace of mind.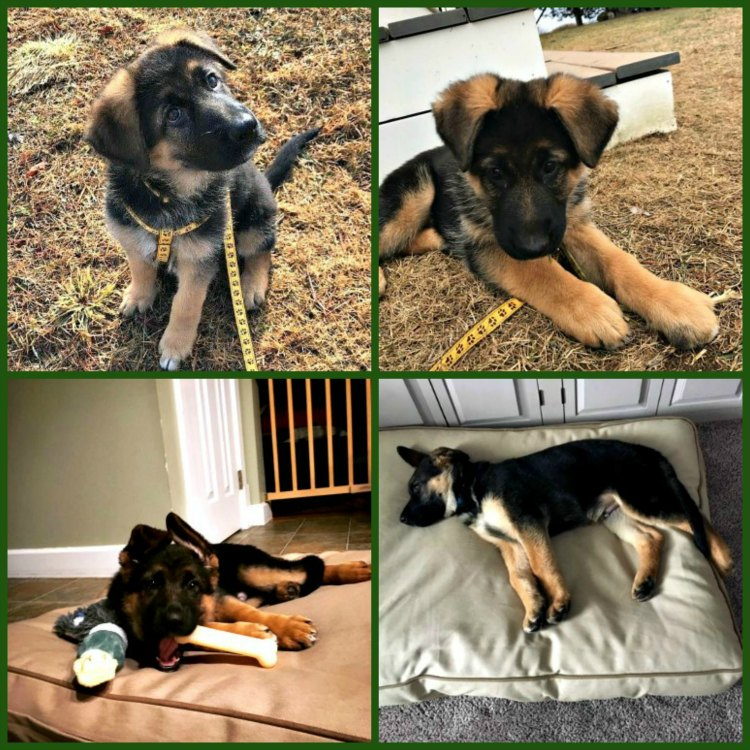 Right now we have two adorable and very busy puppies, Albus and Dora that we kept from Malibu's last litter. They are destined to be breeding dogs when they grow up but right now they are just very busy playful puppies. Because the pups are low to the ground and are venturing everywhere when we take them outside, we have to be sure that we are protecting them from getting any serious infestations. Thankfully FRONTLINE® Plus for Dogs can be used on puppies as young as 8 weeks old and weighing at least 5 pounds, so we can use it on them to help with this summer's "Battle of the Bugs". Applying FRONTLINE® Plus for Dogs

Applying FRONTLINE® Plus for Cats


So bring on summer! The Thompson family pets are ready for flea and tick protection year round with a great battle plan including FRONTLINE® Plus for Dogs, FRONTLINE® Plus for Cats, and regular grooming for our pets.