This shop has been compensated by Collective Bias, Inc. and its advertiser. All opinions are mine alone. #MorrisKnowsBest #CollectiveBias
Chuckles and Aiko – opposites do attract!
They are uniquely different and yet the best of friends just like Felix and Oscar from the old sitcom The Odd Couple. Our male cat, Chuckles (Chuck for short), has smooth sleek black fur that he keeps fastidiously groomed.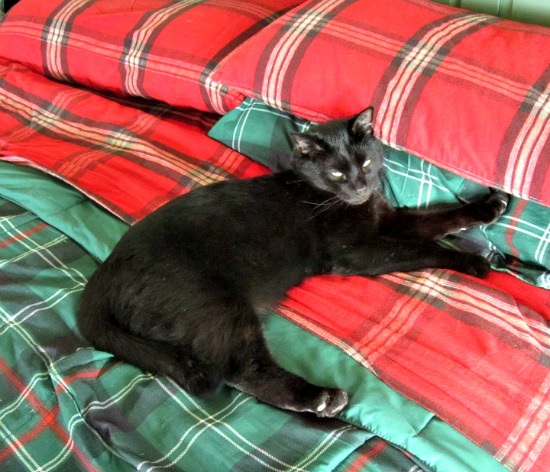 Aiko has a somewhat long coat hair that often appears disheveled and a little scruffy.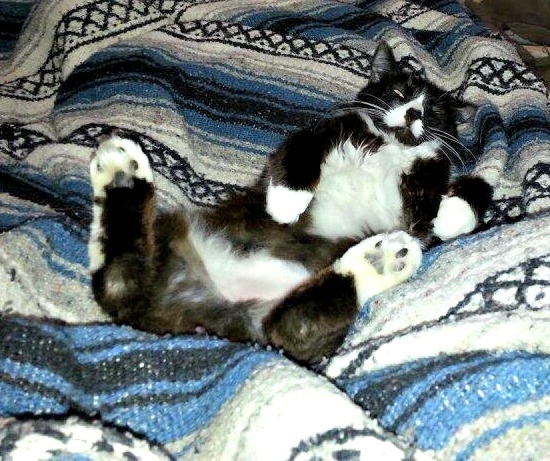 Chuck has a demanding but independent personality.  He'll use me to get what he wants and then ignore me for hours on end. Aiko follows us around the house like a dog and loves to cuddle with the humans.  Chuckles is fanatical about the litter box.  After using it he will spend 15-20 minutes rearranging the litter and making sure that no cat poo is visible.  Aiko perches on the side of the litter box, does what she has to and then leaves not covering anything up.  Chuck will jump in and take care of Aiko's mess just like Felix tidying up after Oscar. Chuckles is an incredibly finicky eater.  He will only eat 3 things – 9®Lives dry cat food, milk, and cheese, which has to be cut into certain size pieces or he won't touch them.  Aiko will try anything but really loves wet food, Chuckles will not eat wet food. So when shopping for 9Lives® cat food at our local Dollar General, I make sure that I get food that will make both kitties happy. Dollar General has a great supply of the flavors that both Chuckles and Aiko love.  Check out DollarGeneral.com to find coupons and save on 9Lives wet and dry cat food! Offer timing: 4/1/18 – 5/31/18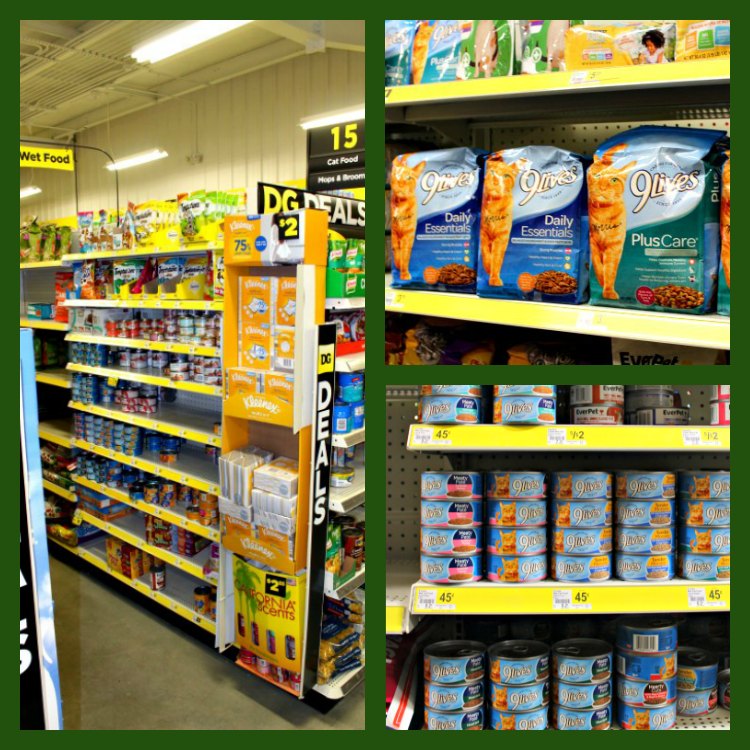 Gourmet Feline Dining at Thompson House
When its dinner time we give them their food in a double bowl – Chuckles dry on one side and Aiko's wet on the other. Each sticks to their side with no arguments.  Aiko loves 9Lives® and her very favorite is the 9Lives® Meaty Pate Mixed Grill. It's made with real seafood and chicken mixed with a thick gravy for the flavors she loves and with the nutrition she needs for a long, healthy life (which makes me happy). She is pretty fond of 9Lives® Tender Morsels Turkey and Giblets too, which has tender bites made with real turkey & giblets served in a seasoned sauce and it has all the nutrients cats need in every life stage! 9Lives® wet food varieties give Aiko the choice of tender meaty morsels mixed with a rich gravy packed with flavor and aroma cats can't resist.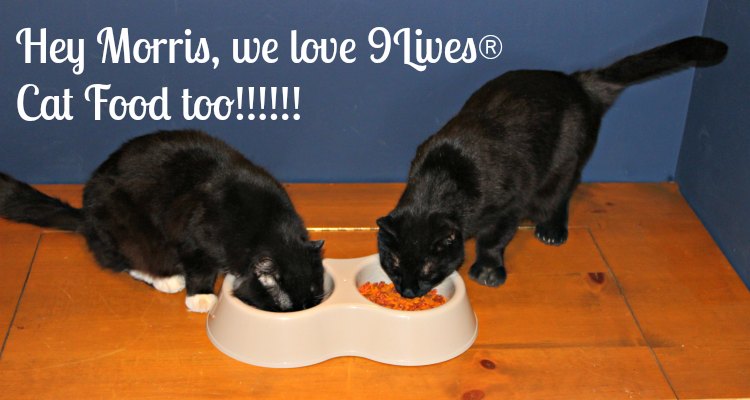 Chuckles eats dry food and his favorites 9Lives® Plus Care Daily Essentials and 9Lives® Plus Care Tuna Egg. I like the 9Lives® Plus Care Daily Essentials because it delivers the nutrition that helps support heart health, clear vision, strong muscles, and healthy skin and coat. Because Chuckles is such a picky eater I want to be sure his diet is healthy and well-rounded so he gets the nutrition he needs – in spite of himself.  The 9Lives® Plus Care Tuna and Egg gives him a little variety and its reassuring for me knowing that now as Chuckles is getting older his changing nutritional needs are met by his 9Lives® food.
Morris the Cat – We Love Morris! #MorrisKnowsBest
Chuckles and Aiko are big fans of Morris the cat….or at least his picture on the bag! I catch them looking intently at it when I am filling their bowls. Or is it the food in the bag? I'm not sure but I've been a fan of Morris for years. Those 9Lives® commercials have always been my favorite. As amazing as Morris is as a talent, it was his back story that I found so interesting.  The fact that he was a rescue cat and yet went on to become one of the most famous cats in the world starring in over 50 commercials and even appearing in a movie with Burt Reynolds is the stuff Hollywood legends are made of.  And Morris used his celebrity status to help others promoting kindness to animals by visiting countless schools and by launching Morris' Million Cat Rescue to save animals in need of a forever home.  Morris has never forgotten his humble beginnings as a rescue cat. He and 9Lives® cat food continue to bring great taste and balanced nutrition to cats around the world. And Morris will not rest until every cat finds a home.
Chuckles loves his "Magic Wand"
Cats love to play. We spend a lot of time playing with Chuckles and Aiko, especially during the winter months when they don't get any outside exercise. What attracts cats into play is fast moving objects that stimulate their prey drive. Toys don't have to be expensive  or complicated.  And they can be made from very simple things you have around the house.  One of my favorite toys to use for interactive play with our cats is what we call the "Magic Wand".  Using an interactive toy like this can make sure that your cat gets the exercise he needs to stay healthy physically and mentally.
All you need is a dowel and some string or yarn. This toy only takes a few minutes to make but will give you and your kitty hours of fun play.
Cut about twenty pieces of yarn 5-6 inches long.
Take one end of a longer piece of yarn (about 2-3 feet in length) and tie the clump of 20+pieces together in the middle.
I also use non-toxic white glue to help hold the clump together in addition to the tying so that no individual pieces can pull out. Tie the other end to a 3 foot dowel so it looks like a fishing pole.
Now just wiggle the tassel of yarn to attract your cat's attention. As you play you will find out what moves will excite your cat's instincts. Chuckles gives this toy some pretty rough treatment but it helps give him some exercise although today he seemed  a little lazy laying down on the job.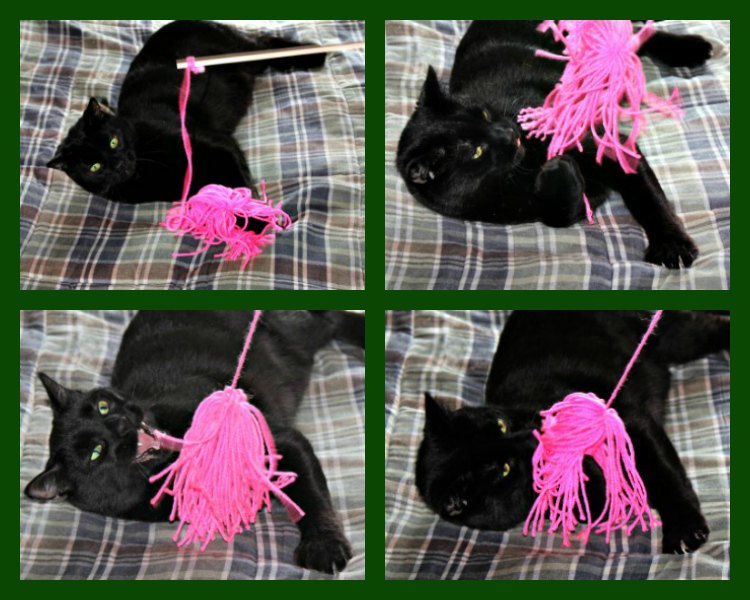 Aiko and her "Catnip Rollaround"
Both Chuckles and Aiko love catnip. Another fun toy is a catnip roll around.  Not all cats enjoy catnip but those who do can have hours of fun with this quick and easy toy.  You'll need some loose catnip and an empty plastic shaker-type spice jar. Just fill the jar with the loose catnip and put the shaker cover back on. As kitty plays with the rolling shaker catnip comes out.  The more kitty plays the more catnip kitty gets.  Self-serve catnip – it works for me! I wonder if Morris likes catnip.  Not all cats do.  It is a hereditary genetic trait that not all cats have.  About 25% of cats do not react to catnip. Does your cat?