"This post is part of a social shopper marketing insight campaign with Pollinate Media Group®, Birds Eye®, and Tyson® but all my opinions are my own. #pmedia #FastFreshFilling
Summer Microwave Cooking with Birds Eye and Tyson – Really Cool!
"Hot town, summer in the city, Back of my neck getting dirty & gritty" As the classic song says, keeping and cooking cool in the summer can be difficult! But the family has to eat and feeding them is part of my job description. Like last Thursday, I felt like the white rabbit in Alice in Wonderland. Lots to do and that stressful feeling of "I'm late, I'm late" all day was wearing me down.  By the time I got to the last errand on my list, a stop at Walmart , I was trying to figure a way out of slaving over the hot stove when I got home. A quick dip in the pool seemed like a better idea but unless I came up with a brilliant idea, I might have to put that refreshing luxury on hold.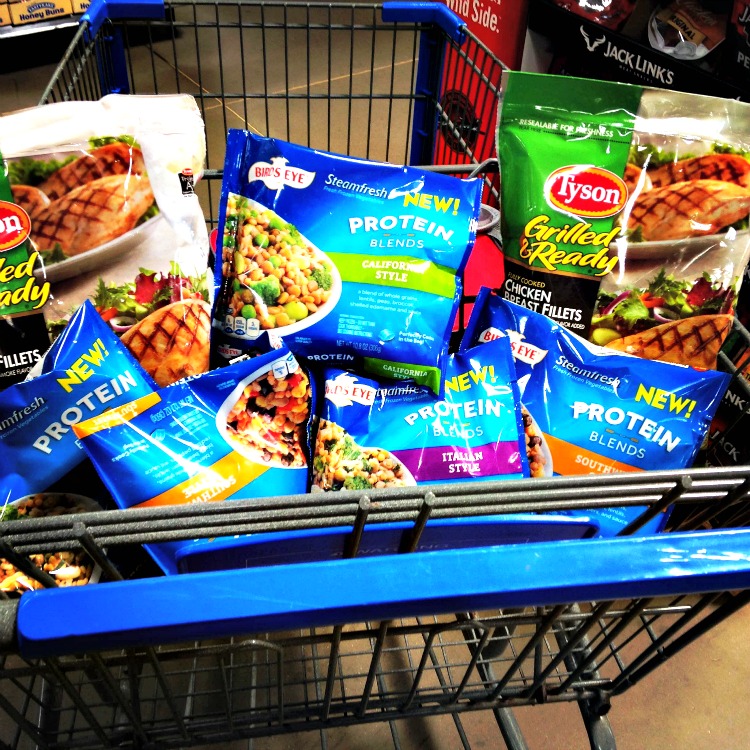 I knew the "fast food "option wouldn't cut it with hubby,  So I had to come up with a "quick food" plan. I was heading down the frozen food aisles (mostly cuz' they are so cool – in a temperature way) and I spotted Birds Eye Steamfresh® Protein Blends.  I'd seen them advertised but hadn't tried them yet. I'm very familiar with Birds Eye Veggies. We eat them all the time, but these Steamfresh® Protein Blends have added protein that ensures the family is getting complete nutrition with their veggies. They looked very interesting but I couldn't decide between the four flavors – Southwest, California, Italian, and Asian. So I grabbed them all. I could figure it out when I get home.  Now I needed some meat because even though the Protein Blends could nutritionally fill the need for a total meal, my hubby (a basic carnivore) doesn't consider it a real  meal unless there is meat on the table. It's a man thing. Chicken goes well with everything so I grabbed a couple of packages of Tyson® Grilled & Ready® Chicken Breast Fillets. I love them because they are 100% natural whole chicken breast fillets and they are fully cooked with a great grilled taste! They even have grill marks on them! So now I could head home and have time for a dip in the pool before I got supper ready easy-peasy and cool in the microwave.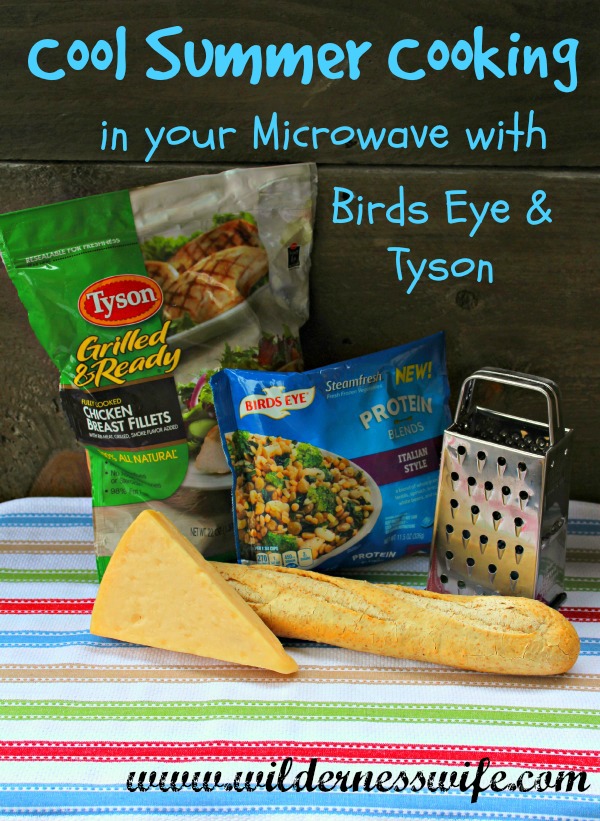 This is just going to be too cool and easy – Summer Microwave Cooking
Once home, I decided to go with the Italian Steamfresh® Protein Blends but I am never one to do things totally by the book when cooking. So I decided to make them and the Tyson® Grilled & Ready® Chicken Breast Fillets into a "Chicken Parm Casserole".  I read over the instructions which seemed pretty straightforward and then precooked both the chicken and the veggies. Next I sprayed my gratin dishes with non-stick cooking spray and placed veggies at one end and put the chicken breasts at the other end.  Then I spooned some marinara sauce over the chicken and placed a layer of freshly grated parmesan over the chicken and the veggies.  I sealed the dish with plastic wrap leaving one corner open as a small vent for excess steam to escape  and microwaved it long enough for the cheese to melt.  Served with a side of crusty garlic buttered baguette, we had a delightful full course meal that made everybody happy.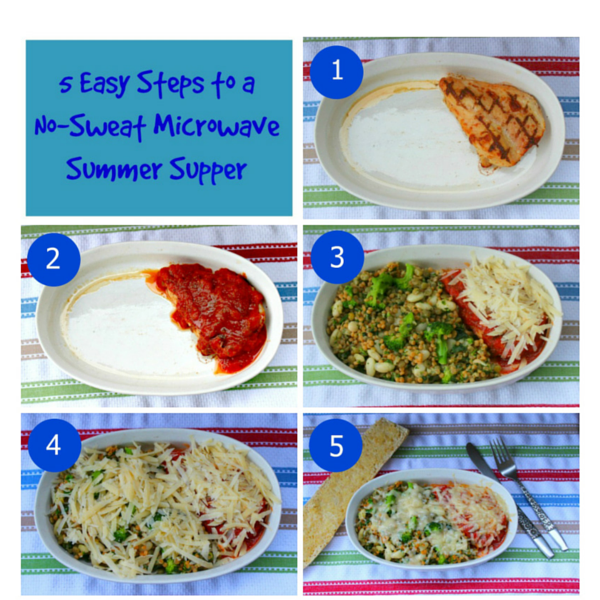 The family loved it.  And they thought I had slaved over the hot stove for quite a while getting this ready.  We don't need to tell them what I was really doing, do we!