This post is sponsored by Wellness and the Pet Blogger Network. I am being compensated for helping spread the word about Wellness, but The Wilderness Wife Blog only shares information we feel is relevant to our readers. Wellness is not responsible for the content of this article.
We're Talking Finicky with a Capital F!!!!!!!
If your're a regular reader of this blog, you've met CJ and Chuckles before. Collectively we refer to them as the "Cat Boys".  CJ is a "rescue kitty" that we got when he was about 4 months old.  He had been "dropped off" at a motel near a busy Interstate Highway in NH where we were staying on vacation.  We saw him living out of a dumpster and inquired at the motel office if he belonged to anyone and were told  that he had been hanging around for a week.  We took him back to Maine with us.  He is 10 years old this summer.  Chuckles we got as an 8 week old kitten advertised in a local shopper newspaper. He will be 3 years old this fall but still acts like he's that 8 week old kitten!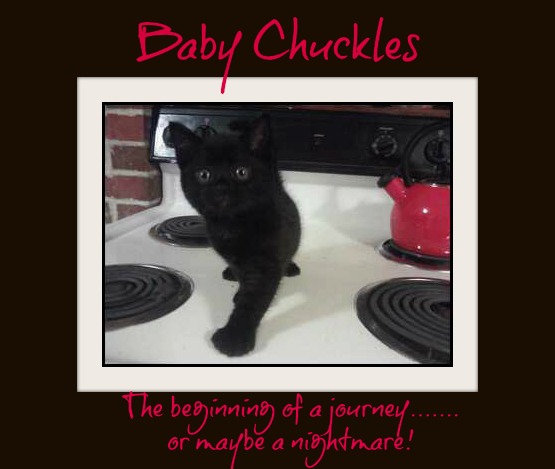 June is #AdoptaCatMonth and I encourage you to do so.  A cat can bring so much joy into your life.  I would never be without one in my home!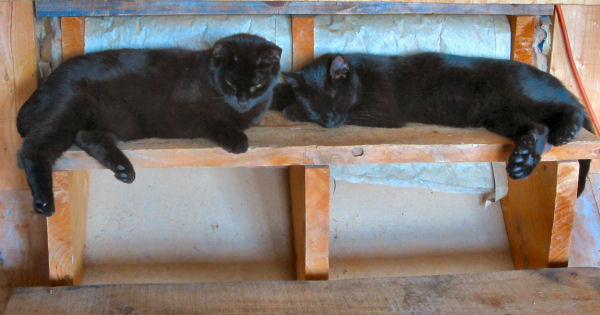 Both of the "Cat Boys" love to eat but they are oh so fussy. These two guys are the finickiest of cats! For years, their menu was the same brand of commercial Big Box store dry cat food. Certainly not the healthiest choice but the only thing they will eat. I mean the ONLY thing!!!!!!  Set a dish of this dry cat food down next to an open can of tuna (every cat's dream) and they would choose the crappy dry cat food every time.  I have tried to lure them into food adventuresomeness (is that even a word? Sounds good anyway!) with all kinds of commercial cat treats. Results are usually a sniff and maybe a test lick, and then they turn their little black tails in the air and off they go with their noses held high. No way!!!! I've tried milk, cream, all varieties of cheese, hamburg, fresh trout caught by Bill, salmon and they act like I'm trying to poison them.  You'd think they had watched the last season of Game of Thrones.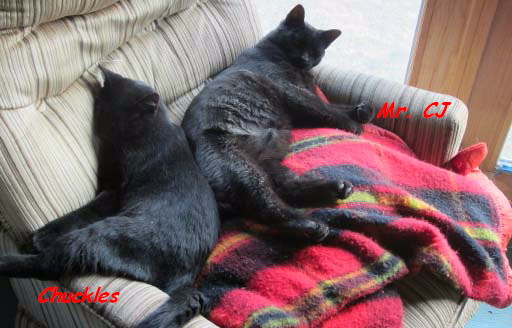 So when we were offered this chance to review Wellness Cat Food, I was a little hesitant as I thought they will never do this!  I will end up looking like a fool and have to tell the company that I couldn't do a post but I decided to take a leap of faith after I visited the company website, WellnessPetFood.com . I really liked what I read there. "Wellness Complete Health recipes are formulated with carefully chosen, authentic ingredients only from trustworthy sources." I thought, "oh, please let the Cat Boys be open to this." It would be so much more healthy for them than their "kitty junk food" they currently exist on.  After reading all the info at the Wellness Pet Food website, I was impressed.  They use NO GMOs, Meat By products (pet food mystery meat), wheat, corn, soy, artificial colors, flavors, or preservatives. This is a high quality cat food with great ingredients – a much healthier alternative to what the Cat Boys are eating now. And the list of Divine Duos flavors reads like a fine restaraunt. Check it here!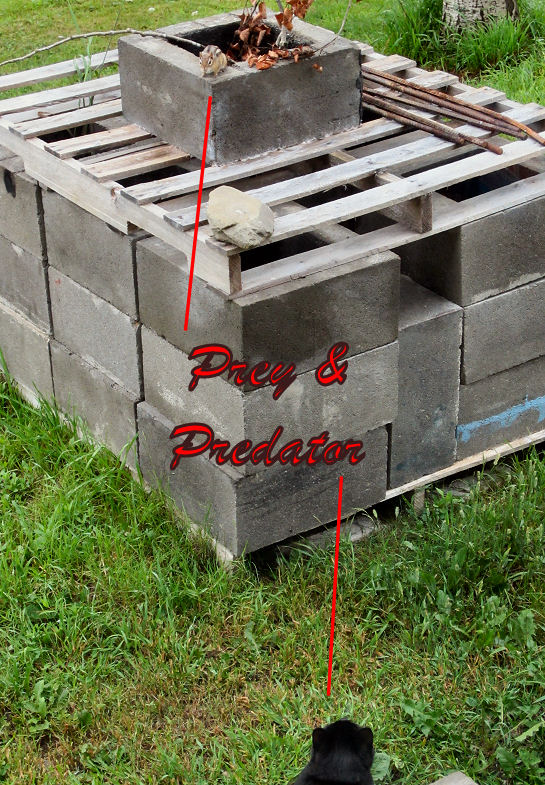 How Can Cats Be "Chowhounds"?
The food arrived by UPS.  The dry cat food was "Complete Health Salmon, Salmon Meal & Deboned Turkey Recipe".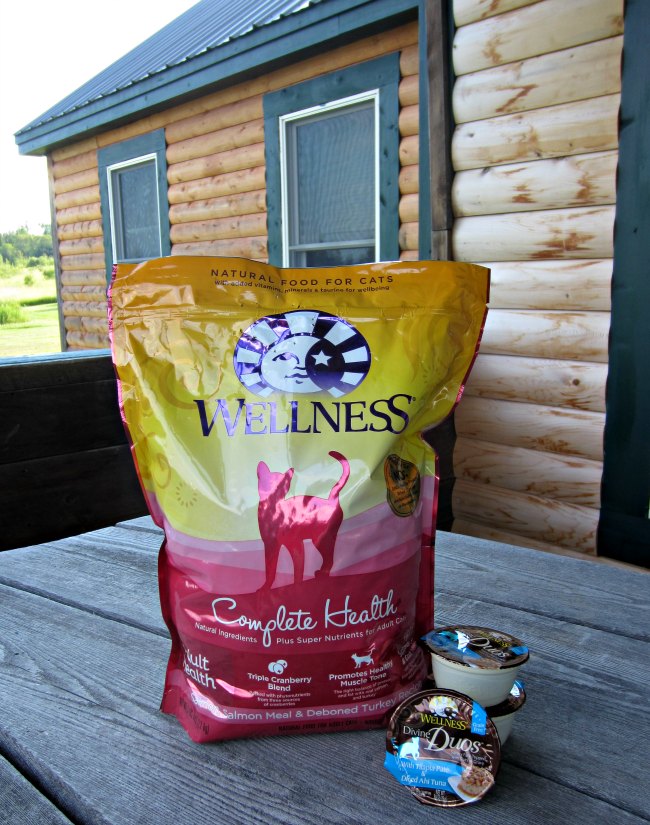 Chuckles was watching as I opened the box on the picnic table on our front porch. He immediately leaped up on the table and checked out the bag and then to my surprise he tried to rip it open.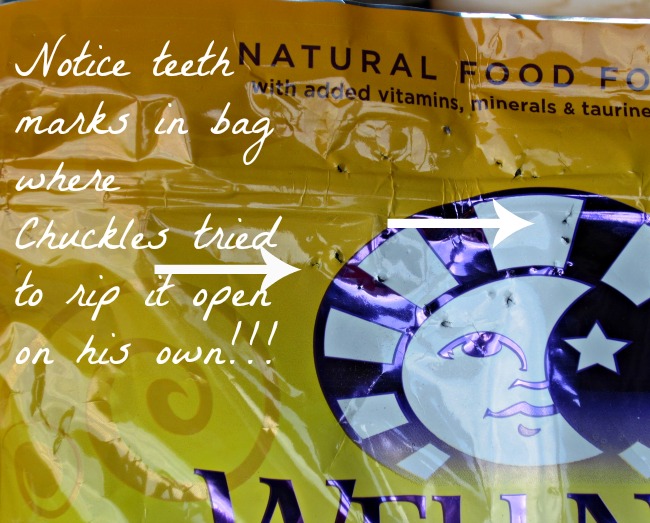 Is it possible?  Is Mister Finicky actually open to trying this cat food?  The wet cat food, Divine Duos Tilapia Pate & Diced Ahi Tuna, a Savory Pate Topped with Cuts in Gravy, sounded like dinner at a Michelin 3 Star Restaurant rather than pet food.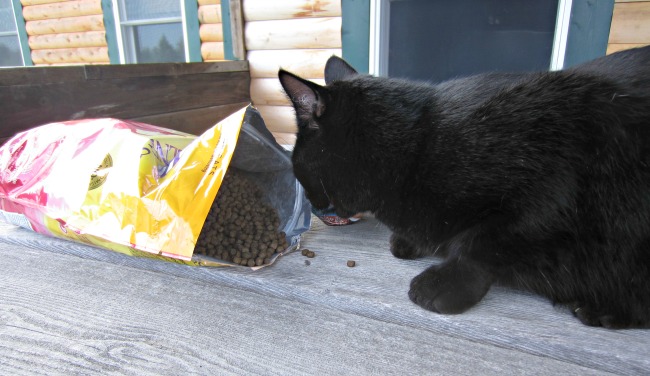 The proof is in this video below of Chuckles Chowing down on his Wellness Cat Food.
So it has passed the sniff test, the taste test, and the "dog wants to steal it" test.  Yes, Spirit the Rottweiler, was trying to get to the bag on the picnic table but she has gotten too old to negotiate any  "table robberies".  Both and CJ and Chuckles like the dry cat food and the wet cat food. I am amazed! Spirit has eaten a lot of cat food over the years because they cats didn't want it! What a relief it is to have a brand of cat food that they like and it is good for them, too.  Providing them with good health and nutrition is very important to me and Wellness Pet Foods is helping me do this! Thank you Wellness! So visit their
website
and find your nearest location where you can purchase their food.  Let your cat try it and see if it's a hit at your house like was here!