"This post is sponsored by Nature's Recipe on behalf of the BlogPaws Blogger Network. I am being compensated for helping spread the word about Nature's Recipe for Moments on behalf of Nature's Recipe, but we only share information we feel is relevant to our readers. Nature's Recipe is not responsible for the content of this article."
Kitty Cat Cabin Fever strikes the Thompson House – a #RecipeForMoments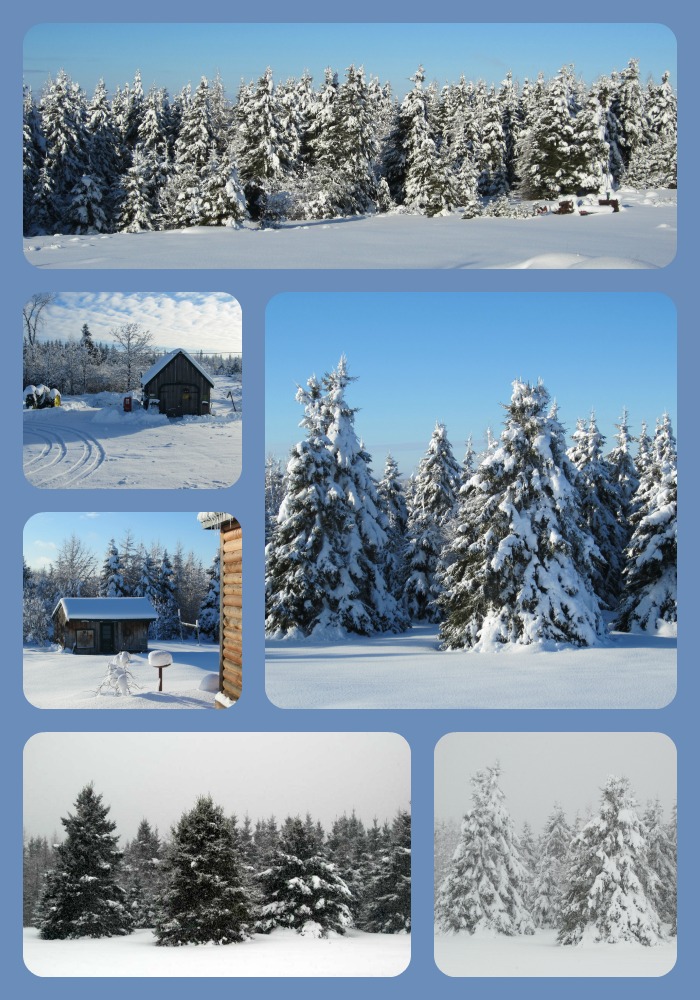 The winters here in the North Maine Woods are long and very cold, especially for pets and particularly for kitty cats!  Chuckles and CJ, collectively known as "The Cat Boys", have entirely different attitudes towards the long housebound days.  CJ's nine years old and very mellow! Hanging out in the house is no problem for him.  Heck, he's one of those cats that even stays inside most of time during the summer months.  CJ likes spending his winter days hanging out by the woodstoves soaking up all those BTU's.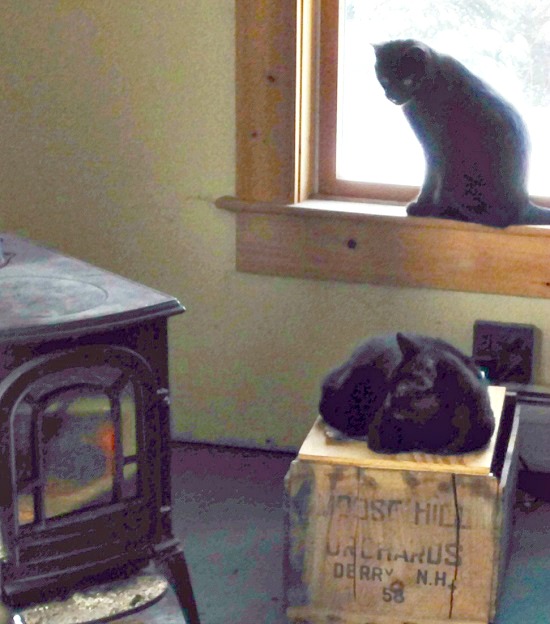 Chuckles, well he's a different story entirely. In the summer he's outside all day everyday from dawn till dusk.  He comes in when called in the early evening (too dangerous for little kitty cats to be outside after dark…..too many scary predators) and can't wait to get outside again the next morning. Chuckles shows up at the door every couple of hours during the day, usually with a mouse hanging out of his mouth (he's a great hunter)! We live in the middle of 60 acres of woods and fields so with all that territory to explore, he keeps busy during the good weather months.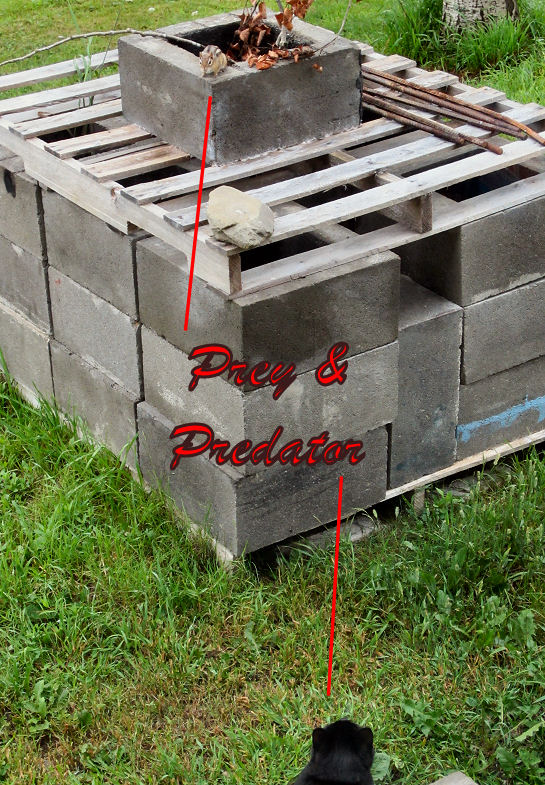 Prey and Predator or …… two star crossed lovers?
Chuckles is all about the hunt! He loves stalking his prey and then springing into action.  But he's not a mean cat – in fact, he's a "Catch and Release" sort of guy.  He and this chipmunk played together all summer long!   During the winter months it's a little tougher for him to occupy his busy little mind. Chuckles thinks of our bed as his bed.  The minute he sees us getting ready for bed, he hops right up on the bed and make himself comfy.  He sleeps with us every night. Last week we were woken up in the middle of the night by Chuckles bringing a live mouse up on the bed to play with.  Trust me, you can get out of bed real fast at 3 AM with the thought of a mouse joining the cuddle-fest. I caught the mouse and put him outside. Sorry, Mickey, go find Minnie to cuddle up with!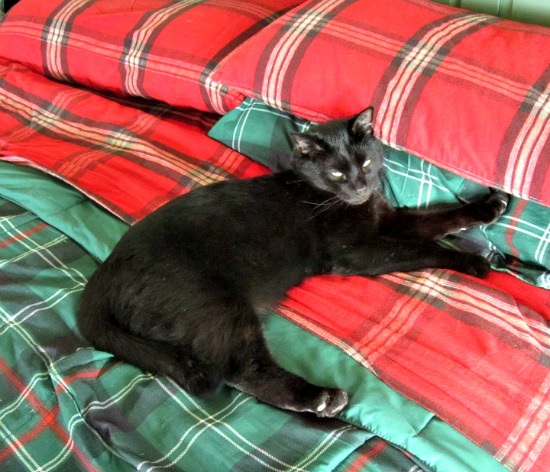 So to occupy his time during the winter, we've bought Chuckles all kinds of cat toys.  I got him the mechanical yellow disk., the programmable laser, a battery operated mouse that bounces around the house, the list goes on and on.  Watching he and CJ play with the toys is as much fun for Bill and I as it is for the cats. It solidifies that human animal bond that makes pet ownership such a rewarding experience.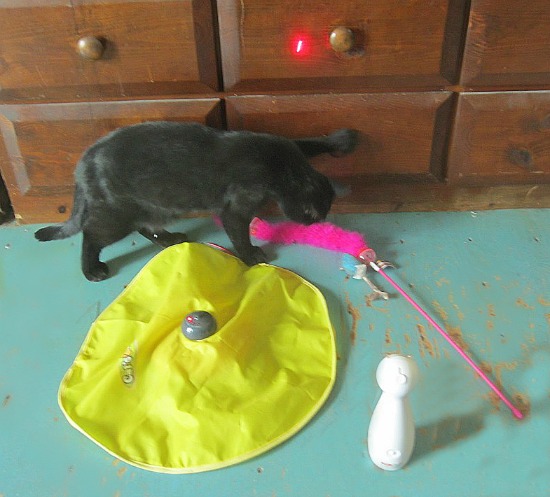 But just like the kid who likes playing with the box more than the new toy at Christmas, Chuckles will pass all the pricey purchased toys by to get his supersize paws on a roll of paper towels or toilet paper. I have to be sure to put all paper towels out of his reach or I will awake in the morning to find a blizzard has hit the kitchen. He will shred a roll of paper towels to confetti sized pieces. Here's a video of Chuckles playing with paper towels on the workshop floor. He seems inhibited because no one is yelling "NO" at him and he can't figure out why.
Another favorite past time for he and CJ is watching the birds at the bird feeders.  CJ is more passive at it but Chuckles can get pretty animated.  And when a red squirrel stops in for a snack, things get very intense. I love capturing these special moments with the camera.
Here at the Thompson house we are all impatiently waiting for spring, not just for the good weather but so we can send Chuckles outside.  But between now and then, I have a feeling we'll be sharing more moments like the ones above. Bill and I often talk about how boring life would be without our pets.  The special bond between owners and pets creates a family and we so enjoy our "kids". Life would be very boring without them.
So if you are experiencing pet "cabin fever", get out your camera and share some of those moments on  
Nature's Recipe© For
Moments Scrapbook
 Linky List below .  I keep my camera in a convenient place so I don't miss that wonderful shot that is a recipe for moments that might never happen again. We'd all love to see your photos and Nature's Recipe has a special event going on where you can share your special moments and possibly win a pet cam. Oh, would I love one of these! Bill and I are always wondering where Chuckles goes when he disappears outside for hours at a time.  I would love to see his adventures up close and personal with a "Kitty Cam". So head over to the
Nature's Recipe© For
Moments Scrapbook
 and check out all the wonderful stories and fantastic pet cam pictures.  And enter your precious moments with your pets into the personal scrapbook Linky Party below to share your fur babies' adventures with the world. You just might be the proud owner of a new pet cam.
Our story is a part of the #RecipeForMoments blog hop hosted by BlogPaws. Link up below to share your story of the bond you and your pet share. What do you think your pet feels in your special moments? Five random U.S. winners who link up their blog post will win a Nature's Recipe® lightweight collar camera to capture special moments from their pet's point of view. See BlogPaws for official rules and details.