Cats are from Venus and Dogs must be from Mars!
We are a multi-pet family having both a dog and two cats! The differences between the species is amazing and yet they mesh together in our family and get along great. Dogs seem to be from a more masculine universe where bad odors, disgusting eating habits, and frequent flatulence are not a problem! Cats are from a more feminine universe where personal hygiene and smelling good are very important, grooming is everything, and discriminating taste and perfect dining habits are oh so important!  Our dog wolfs down her food in huge gulps where as the kitties delicately nibble at theirs!  She will go out in the yard and search for the most disgusting thing she can find (last week it was a pile of bear poop!) and roll in it till it is enmeshed her hair while Chuckles the cat will come in the house and immediately sit down, clean his paws, and groom his perfectly clean fur.  Gemma, our house dog, sneaks into the chicken yard and eats chicken poop like it's ice cream but CJ, our older cat will only eat one brand of dry cat food!  Dogs are incredibly dependent creatures needing a human to feed them and let them in and out to go "potty" multiple times a day. If the cats' bowls are full of food and water and their litter box is clean and full of fresh litter, they don't really need you for days at a time.  That may be why cat's have such an independent attitude.  If you even glance at Gemma, she is right in your face wanting pats and attention.  With Chuckles and CJ, they may want some affection, if they are in the mood, or they might prefer to nap undisturbed in the sun by the window.  Affection can't be forced on a cat, any contact is on their terms.  Being that they are so different, it is amazing that cats and dogs that live together get along so well.
Our older cat CJ and our now-departed Golden Retriever, Buddy Moe loved each other.  CJ loved to curl up in between Buddy's paws and sleep.
Our current dog, Gemma loves her kitties too and when she was very sick last year recovering from surgery, CJ laid about 4 feet from her dog bed watching over day and night till she was better. Chuckles is more of a tormenter with Gemma, stalking her and chasing her when they are out in the yard together.
The Drawbacks of Cat Ownership – Thank Goodness for Fresh Step Kitty Litter!
There are a couple of things that I do dislike about cats. They aren't deal breakers but they do put a damper on things.  The first is their predatory instinct.  Actually it's a double edged sword for me.  I like the fact that they keep the mouse population under control as we live in the country and would be inundated with deer mice if it weren't for the cats hunting instincts. It's the fact that they also hunt species that I like that I find a little irritating.  Both CJ and Chuck like hunting birds. I know it's in their nature and cats can't be trained to control those urges like a dog can.  Bill and I love to feed birds so it's very upsetting when Chuckles shows up at the door with a bird in his mouth.  They are always alive as he is not a killer. But he does play with them roughly and birds are so delicate that they don't make through the play session!
He has developed a strange relationship with a chipmunk that lives under one of the outbuildings.  He has been friends with Mr. Chips (I assume that is the same chipmunk) for two summers. Their friendship is so cute and a bit amazing! To see more details of these two guys go to Chuckles and Mr. Chips- A Cross-Species Love Affair!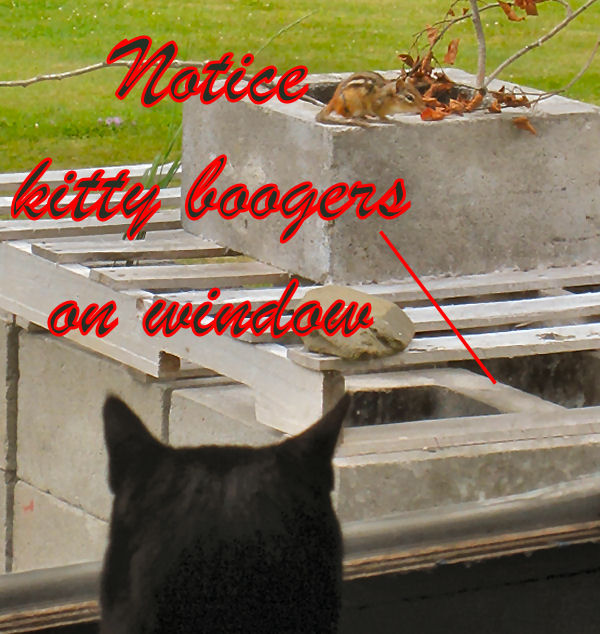 And the other problem with cats is the dreaded Cat Litter Box.  But thank goodness for Fresh Step Scoopable Cat Litter and their state of the art formula! With natural plant extract ingredients and chlorophyll, it's hard to detect any odor from the litter box.  I have been in houses where the litter box odor is just overwhelming!  I have thought to myself, "Does anybody here ever clean their Litter Box?."  Around here we have a chore schedule posted on the fridge and checking that litter box is on there because you never smell it and pretty much forget it's here. The Fresh Step does a great job of eliminating the odor. The ingredients in Fresh Step Cat Litter are natural, which is a relief.  There are so many things in today's world that cause cancer and allergies so it is nice to know that the cats have a safe place to go "potty".  Our CJ spends 20 minutes in the litter box rearranging kitty litter so you would never know he used it.  He's a very clean little fella, almost anal (ha ha) about the Litter Box. Chuckles goes outside a lot but will come to door and scratch to come in.  First stop is the cat litter box.  He doesn't go to the bathroom outside.  In a way its nice as I don't find any surprises in my garden! But we go through lots of Fresh Step Cat Litter with these two guys.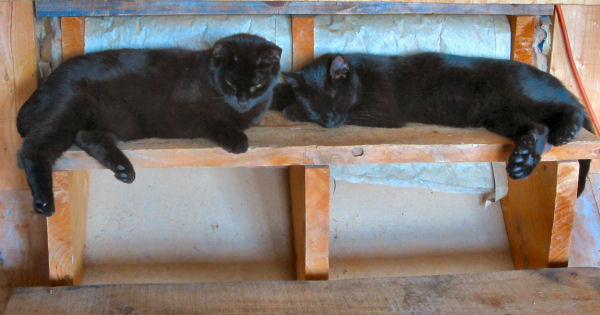 Keeping our litter box smelling good is so important to me.  I fear becoming "Nose Blind" to odors that we live with all the time and cat odor can be a problem, so I love that Febreeze is a component in Fresh Step.
Check out this video of Chuckles aka Kitty Soft Paws as he asks to come in the house.  Bill refers to it as "Chuckles is doing the Windex thing".  Oh, I would love it if I could get the little bugger to wash the windows! Check out the size of his feet.  He's double pawed.  Maine is renowned for the high percentage of polydactyl cats in the kitty population.