Fathers Day fast approaches and the procrastinators among us will wait till the last minute. Our lives are so rushed and busy these days and with so much on our minds we do forget, and get caught in a mad rush as a holiday like Fathers Day creeps up on us. So to help you save face and come up with something special for Fathers Day, I have gathered together 8 Free Father's Day cards and printables and the best part is they are totallyfree! Check them out and enjoy Fathers Day with a smile on your face and no guilt!
The first is a whole selection of Fathers Day from HGTV and The TomKat Studio. If you can't find what you are looking for here you never will…LOL!

This link to MES Cards.com has a selection of cards for the kids to print out for Dad.  Kids love to be part of the preparation so let them join in and show them how to print it out and fold.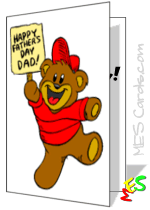 This Argyle styled card has a definte Dad theme that he'll like.  It's from About.com 's family crafts section.
I really love this one from Papercrave.com.  The perfect Fathers Day gift bag….a shirt and tie.  How very clever and fun to make!
This card from Livelaughrowe.com has a very stylish vintage feel to it.
Momtastic.com goes the comic route with a free printable Fathers Day card that uses humorous quotes to convey its message.
Todays Creative Blog has a whole set of Fathers Day Printables for you to use to make cards, wall art, and more.
And finally, Holiday Snobs blog has a group of printables that could be printed as cards or as wall art.  I really like this one.
I hope was able to help you with your Fathers Day plans and give Dad a hug for me!