This is a sponsored post written by me on behalf of The Home Depot. Thoughts and opinions expressed are my own. I am grateful to Home Depot for this opportunity to work with them and receive the materials to enhance and improve our backyard.
Well the project is finished.  Our new Home Depot Zipper Pathway is complete.  The ugly backyard is taking shape and while we still have more to do to the area, this project has made a significant improvement. So we are on to the next phase of our project which will be putting lattice work along the bottom of the decks.
Here are some before and after photos. It's quite a change! Thank you, Home Depot!
We solved the ugly green well cap problem by using an old milk can we had to disguise it.  Bill cut the bottom out of the can so it would drop down over the well cap and painted the milk can black.  It made a nice place for me to display a pot of flowers.  I found some geraniums and lobelia at the Home Depot Garden Center and potted them together in a large pot I already had.  It's a little early to plant annuals outside so I bring them in at night when it goes down to 30F.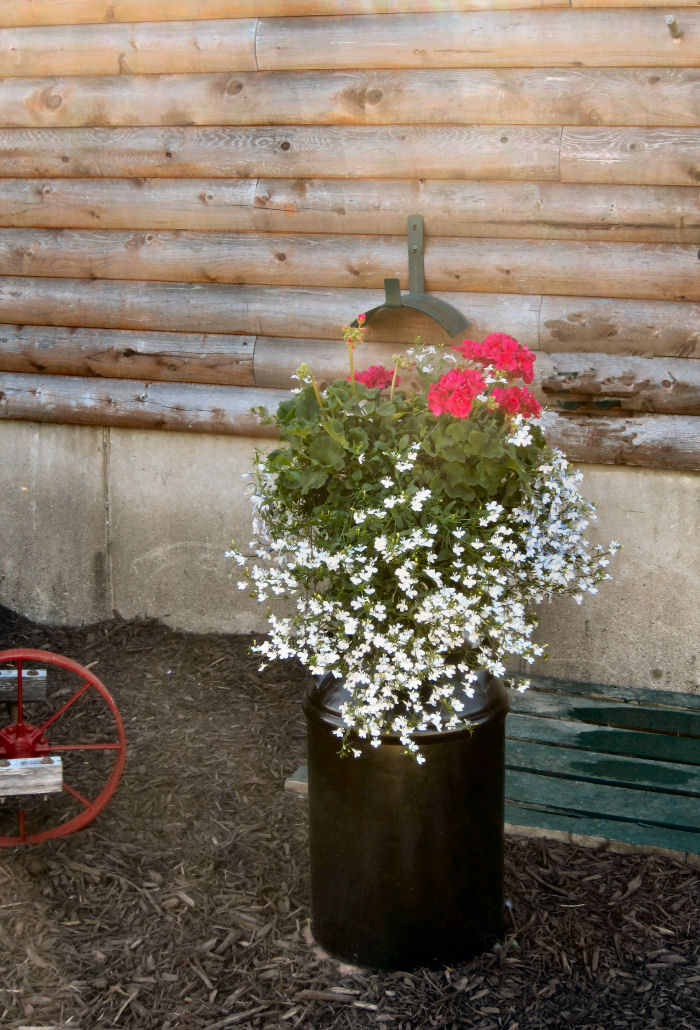 I put my old wooden wheelbarrow in new area to add some interest.  Bill had that old washtub hanging on the side of the barn so I grabbed it and stuck it in the wheelbarrow so I can put some plants in it when it gets a little warmer.   We bought a Forsythia shrub at Home Depot to fill out the space.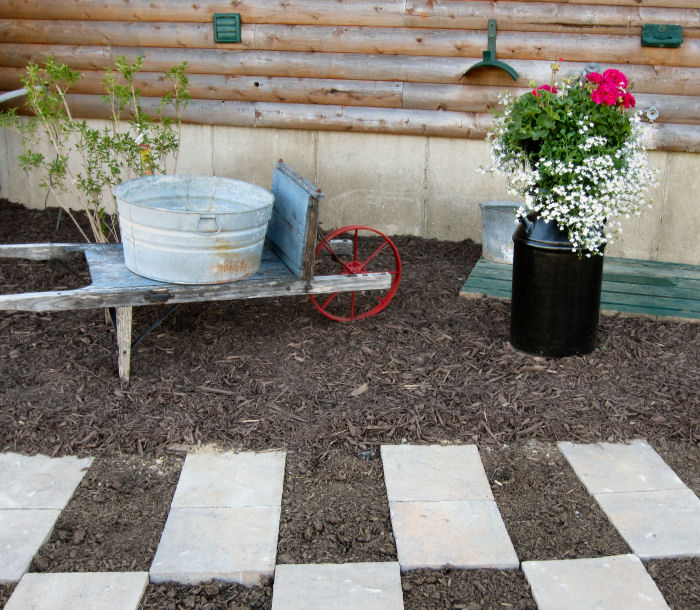 The best part of this whole event is the feeling of accomplishment you get at the end when you see the results of all the hard work come together.  Although the physical labor was difficult, the information from the Home Depot Garden Center made the planning and the execution of the project really easy.  The materials and instructions were complete and detailed, and that made the whole project easily accomplished in 2 days.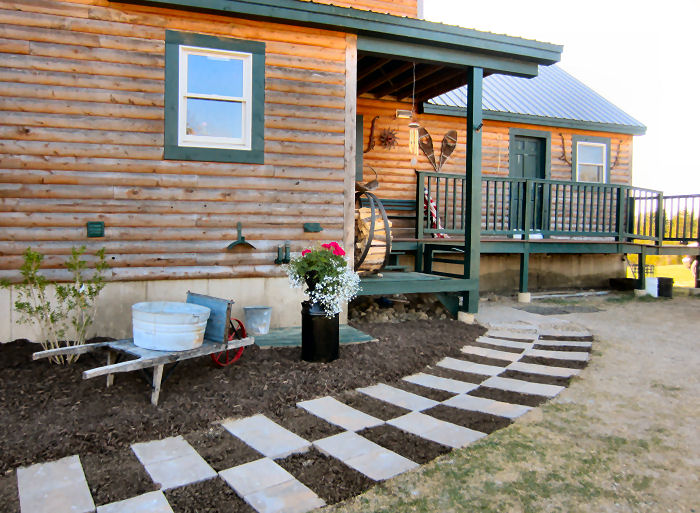 We are so happy with the finished product.  It's such an improvement. So don't be afraid to tackle a project like this even though you have never done it before.  With the Home Depot's help, you can make an idea a reality.  Joining the Home Depot Garden Club is really worth it!  I look forward to those Home Depot Garden Club emails with new ideas, and the latest deals at my favorite home improvement store!
This is the fourth in a series of posts.  To see the project through all its stages check out these earlier posts –
Planning Phase – Home Depot Zipper Pathway – Solution to a huge problem! #Digin
Shopping phase – Home Depot Road Trip! Time to #Digin
Building phase – Building our Paver Stone Zipper Pathway #Digin
It's home improvement time, and The Home Depot has everything you need to #DigIn for Spring. No matter what projects you want to tackle, they have great values on all you need. They're ready to help you with renovation ideas and expert advice, too.
Get over $300 in email exclusive savings each year, sneak peeks on new products, monthly lawn & garden ideas for your region and access to The Home Depot's gardening experts. Click here to join the world's largest garden community today! Or go to http://gardenclub.homedepot.com/ to see some of the many benefits of membership.
This is a sponsored post written by me on behalf of The Home Depot.