This is a sponsored post written by me on behalf of The Home Depot.  Thoughts and opinions expressed are my own. I am grateful to Home Depot for this opportunity to work with them and receive the materials to enhance and improve our backyard.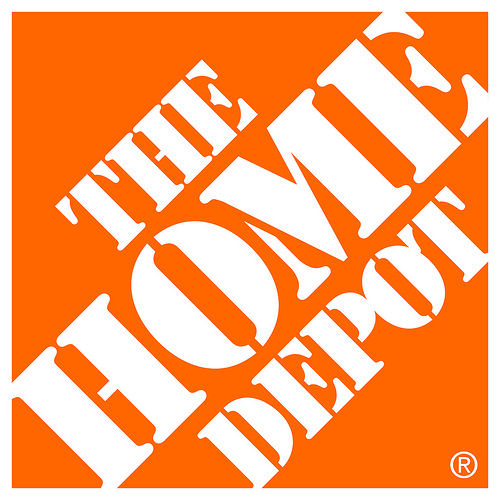 When Home Depot chose me to blog about their Garden Club and to participate in completing an outdoor landscaping project from the Home Depot Garden Club, I was thrilled.  We've been heavily involved in remodeling the inside of this house for the past few years but have severely neglected the outside.  This spring/summer we have planned to take our "remodel" outside and really work on the overlooked and unkempt area of our back yard. We have a beautiful location nestled in the middle of the North Maine Woods with a spectacular view of Mount Katahdin.

The great outdoors is why we moved to Maine and the secluded beauty of this home is why we chose this particular place.  It's a really idyllic setting, in off the road 1500 feet with a winding driveway skirted by fields and forest.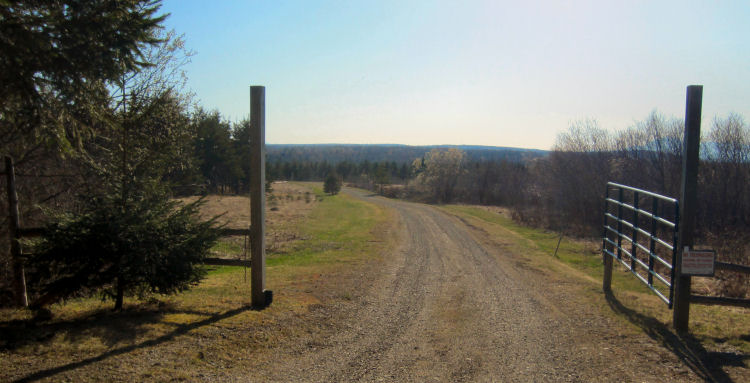 But this place needs some sprucing up.  It has never been landscaped.  No shrubs, no perennial plantings except for some lupine we dug up side of the road, essentially a bare canvas to create and decorate as we want.  The front of the house looks out on the spectacular mountain views but because the driveway and parking area are in the back of the house, it is the way our guests enter our home the majority of the time.  And it desperately needs some work.  After all, first impressions are lasting ones and this area in its current state makes a less than favorable impression.  We are talking UGLY!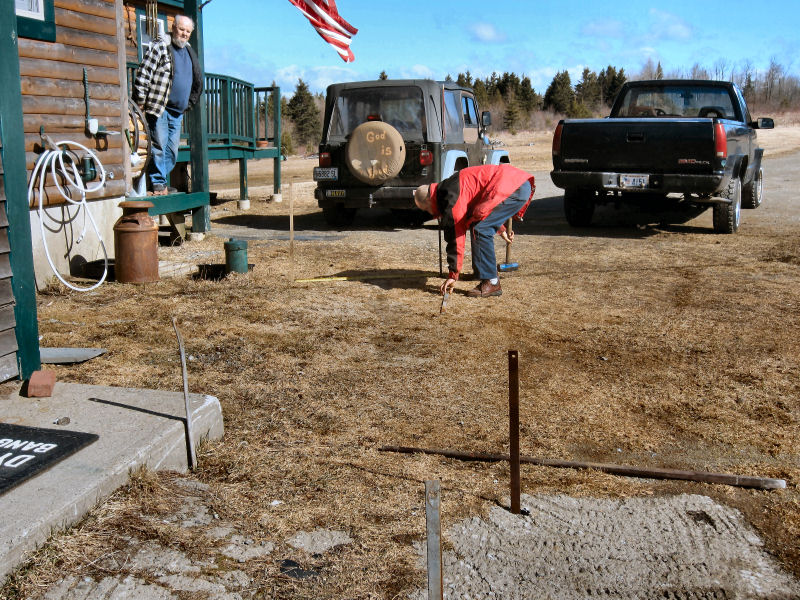 We have a gravel driveway and parking area.  Not that bad on a dry day except that it allows for a lot of dirt tracked into the house. On a rainy day the water pools up at the base of the stairs so we really needed to get that problem taken care of. The paver path will help with both of those problems, and makes for less mess tracked in the house making me a very happy woman! 
The weather in this part of Maine is extreme and the winters are harsh. The intensely cold winter climate with frost heaves and such can really take their toll on a poured concrete sidewalk or a pavement walkway.  We have always planned to do a paver stones path in this area, knowing that we could adjust it if the climate affected it seasonally.  When I saw the Zipper Pathway project on the Home Depot Garden Club website, I was so excited.  It was just what I had in mind for a much needed finished footpath from the back door to the cellar entryway. The area for the path was a pretty dreary area and in the early spring extremely wet and spongy. Looking at the photos on the Home Depot Garden Club website, I knew I had the perfect solution to dress up a dead spot in our landscape.  Our project will be a little larger than the Home Depot website project as we have to extend it another 20 feet and add a landing area at the foot of steps at each end of the path.  But the detailed step by step instructions that Home Depot provides gave us the information we needed to tackle the job. That's what I love about Home Depot.  They always have the most innovative home improvement products available that make DIY projects easier than ever before.  And the Home Depot's library of how-to videos and project planning tools help you turn thinking into doing. Regularly updated articles clue you in on you exciting trends in gardening and landscape design so you're never out of fresh ideas.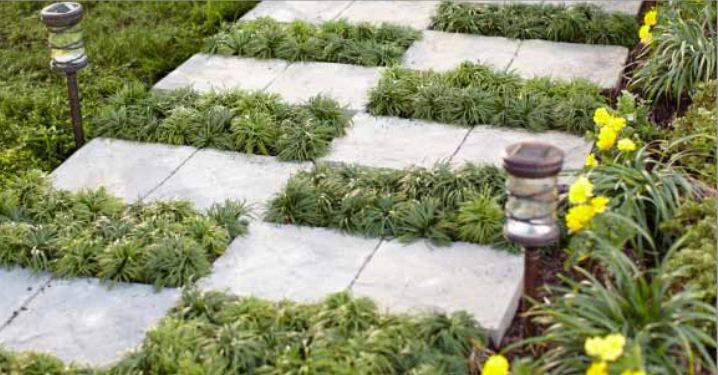 Our first step was to check the materials list we had printed out from the website.  We had all the necessary tools they mentioned, which we had purchased at Home Depot for past projects like our rubber mallet, which we had gotten when we installed the tile hearth in our kitchen, and our tamper, which has come in handy for a number of projects including setting up our above ground pool.  You can never have too many tools (at least that's what Bill tells me!).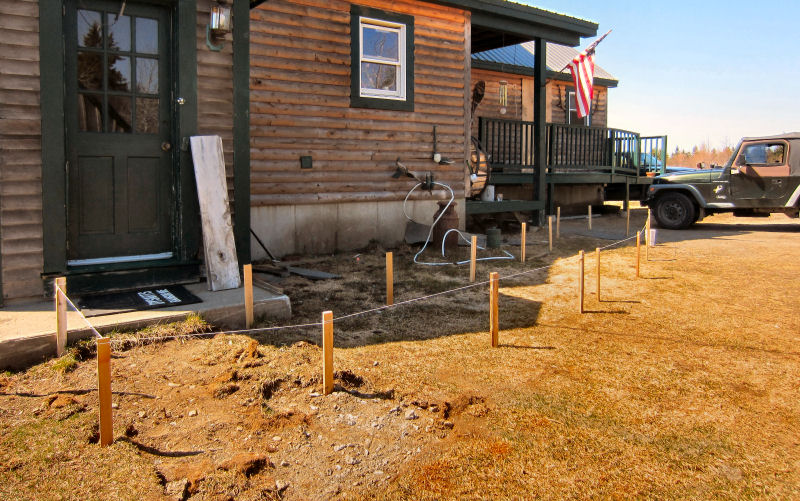 We got out some stakes and string and laid the path out just as they showed on the Home Depot Garden Club website.  The additional length wasn't a problem, but our path will have a gentle curve, and the zipper pathway will allow us to accomplish this more easily than a solid pathway would. Using 12" x 12" pavers allows us to have a graceful turn that will blend nicely with the rustic wilderness character of our home.  We want things to look organic and natural rather than structured and formal.  We just had to multiply the quantities on the very thorough materials list I had printed out from the Home Depot Garden Club website.  It was so helpful to have that info to work with.   I also printed out the instructions so we could refer to them as we worked.  Each step is well written with a clear color photo.  Now the planning is done, and with all the help from the Home Depot Garden Club, it was a lot easier than I thought it would be.
Our next step is to decide on the ground cover for the alternating open ground.  The Home Depot Zipper pathway project shows Mondo Grass (which I loved) but unfortunately we are to far north to use it (we are Zone 3). I can see that I will be using the Home Depot Garden Club website a lot this year as it is loaded with great landscaping ideas, how-to videos and information that will make transforming our yard into dream home we have always envisioned.  The whole process is a lot less intimidating with Home Depot's help!  The next step will be the shopping trip to Home Depot.  As our Home Depot is in Bangor, about 80 miles south of us (actually everything is south of us…we are really in the boonies), we will make a day trip of it (I can get Bill to take me out to lunch!).   I always love going to Home Depot! ROAD TRIPPPP!!!!!!! Follow along with us on our backyard dress-up! Click here for the next installment ,,,,Shopping at Home Depot.
It's home improvement time, and The Home Depot has everything you need to #DigIn for Spring. No matter what projects you want to tackle, they have great values on all you need. They're ready to help you with renovation ideas and expert advice, too.
Get over $300 in email exclusive savings each year, sneak peeks on new products, monthly lawn & garden ideas for your region and access to The Home Depot's gardening experts. Click here to join the world's largest garden community today! Or go to http://gardenclub.homedepot.com/ to see some of the many benefits of membership.
This is a sponsored post written by me on behalf of The Home Depot.