It's Garden Time, my cure for Spring Fever!
Spring fever! I get it every year.  It starts in January when the seed catalogs start to arrive with all their gloriously colorful photos.  Ripe luscious tomatoes, plump carrots, gorgeously green peas….. I could go on and on! Those seed catalogs are like vegetable porn!  To download a free gardening and recipe e-book click on image below.
I can't wait to gather my little peat pots, fill them with potting soil, and start my little veggies.  But alas, on March 20th, my poor little raised bed herb garden was fast asleep in a new 19" blanket of freshly fallen snow!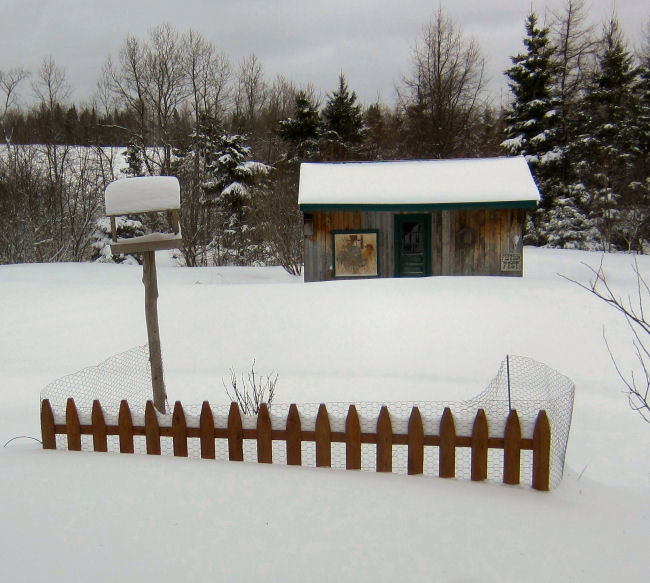 Spring comes slowly here in the North Maine Woods.  The melting of all that snow has started again in the last week. The snow is just starting to creep away to the edges of the fields leaving the dead, brown grass in its wake.  The lawn is starting to show, and my raised bed herb garden is finally clear of snow.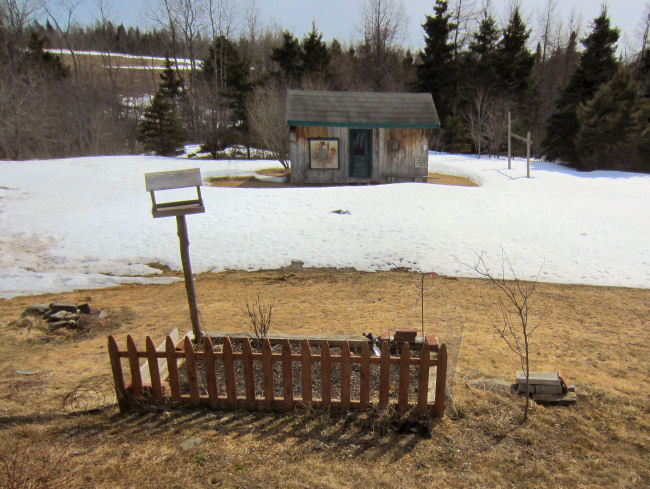 The garden shed will soon be able to be opened up so we can get out our lawn furniture and gardening equipment.

Bill and I are itching to get outside and start working on a number of landscaping projects we have planned for this summer. The list is long but it's going to be fun.  We have put off doing serious landscaping until we got a number of carpentry projects done but this is the year for an "outdoor remodel".  On our agenda are the following projects – a stepping stone path from the back door to the cellar bulkhead, 2 more raised bed gardens (we have found they are so much easier on the back), shrubs and flower beds around the front porch, field stone retaining walls at the edge of our lawn, and a series of window boxes for the railing on the back deck. Yes, we have a pretty full plate but we can't wait to get started.
The Home Depot Garden Club solves the problem!
That's why I was so excited when Home Depot asked me to participate in a series of sponsored  blog posts featuring their Home Depot Garden Club. When I checked it out, I was thrilled to find that they had complete info for a number of things we will be doing this spring. As an avid gardener, I love finding new informational resources on the web.  Home Depot's Garden Club is LOADED with information of all sorts. I was thrilled to see that they have my new walkway covered with all the info that Bill and I will need to do the job the right way.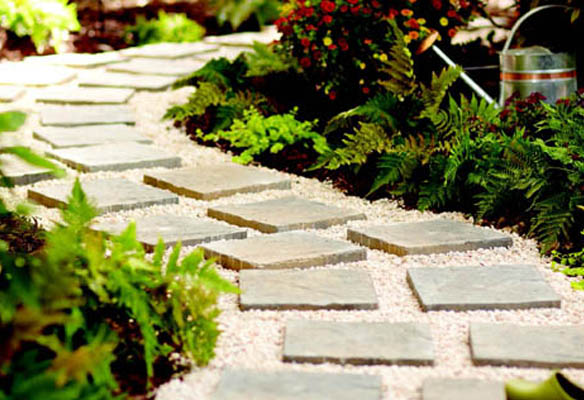 They even have an online video that shows how to do it!
And those two raised beds that are on my "to do" list just got a lot easier with the very reasonably priced raised bed kits that Home Depot offers.
In addition to all the great info, Home Depot Garden Club membership offers $5 off your next $50.00 garden related purchase when you sign up, over $300 in email exclusive savings each year, 8 fantastic garden projects with step by step instructions, sneak peeks on new products, monthly garden to-do lists, how to videos, and that great expert advice you always find at Home Depot.
Bill and I are frequent customers at Home Depot. Our nearest Home Depot is 80 miles away but it is always worth the trip! We live in a very remote area and you have to travel for everything.  It's the trade-off you make when you want to live in a wilderness setting and enjoy the great outdoors.  We have a small hardware store about 10 miles away but the selection is limited and the expert knowledge just doesn't compare to the info we receive at Home Depot.  And the prices are so much more reasonable at Home Depot.  So we make a trip to Home Depot a "date day" with dinner out and a fun visit to our favorite DIY haunt, The Home Depot in Bangor, Maine.
It's home improvement time, and The Home Depot has everything you need for spring. No matter what projects you want to tackle, The Home Depot has you covered and can help you #DigIn to Spring.
Spring is the perfect time for all your outdoor home renovations. Shop The Home Depot for terrific values on new patio furniture, landscape supplies such as fertilizer and potting soil and outdoor grills. Keep your lawn and garden looking great, too, with the huge selection of lawn mowers, edgers and trimmers, and garden tools.
Visit The Home Depot Garden Club #Digin for product ideas from kick-starting your Spring with seed starter kits to building a window birdfeeder.
This is a sponsored post written by me on behalf of The Home Depot.