Looks like the Easter Bunny will be a Snowshoe Hare here in the Maine Northwoods!
It has been a crazy winter! And next week is Easter and we still have snow on the ground! Aah, the joys of living in the North Maine Woods.  That sure puts a damper on the annual Easter Egg Hunt as even if the warming trend predicted for the next week takes place, we will be smack dab in the middle of "Mud Season". So Easter, even though it is in mid-April will be an indoor event this year.  We will be focusing on the indoor stuff like decorating Easter Eggs and crafting an indoor Easter Egg Tree.
Thrifty Easter Egg Decorating
Easter Egg Decorating is a great family tradition to incorporate in to your Easter holiday because it's a fun activity for the whole family.  I never bother to buy those Easter Egg decorating kits. To me, they are a waste of money and they don't spark the kids imagination and creativity. The Easter egg decorating ideas in this article will give your kids some hands on crafting experience.  In this digital age, anything that challenges their minds and uses their hands is "a good thing", as Martha would say.
Inexpensive Easter Egg Dye
A cheap and easy Easter egg dye is easily made with things you have on hand in the kitchen.  Mix  1/2 cup of boiling water with 1/2 teaspoon of white vinegar, add then add a few drops of food coloring to get the color you want.  You can mix some really pretty colors.
Yipes! Stripes! Easy Easter Egg Decorations
I make striped Easter eggs by wrapping some thin tape around the eggs.  Dye them one color, then take the tape of and dunk them in another color.  Another way to make cute designs is to take blue painters tape and apply it to wax paper. With scissors cut out shapes like hearts, circles, triangles, etc.  Peel the wax paper of the tape and place the blue tape shape onto the egg.  Put it in the dye for a few minutes, remove and peel away the tape shape.  You can leave as is or put it into another color dye.
Toddlers can decorate Easter Eggs,too!
The hot liquid and the chance of a spilling disaster might make egg decorating with toddlers seem like a lot of work and worry.  My solution is to pick up some Easter holiday stickers ( you can find inexpensive ones at the dollar store) when shopping.  These are especially good for toddlers and kindergarteners who don't have the dexterity for anything to tricky, and they come out looking very pretty to give the kiddos a positive experience.
Here's 10 more great Easter egg decorating ideas from around the web –
Kool Aid Dyed Eggs
Check out this KOOL idea from Jen Geigley at the Hey Jan Renee Blog.  Dying eggs with Kool Aid!  The kids will love this one and it is super safe!
Mosaic Easter Eggs
I found these classy and colorful Easter Eggs at Gingerbread Snowflakes blog. The eggs have a unique mosaic pattern that is created by using dyed, crushed egg shells. Another use for Modge Podge ….got to love that stuff!
Watercolor Easter Eggs
These gorgeous eggs are done with watercolor pencils.  The kids could get real creative with their decorating using this technique.  These are the creative product of Alisa Burke at the Lisa Burke – Redefine Creativity Blog.
Natural Dyes Easter Eggs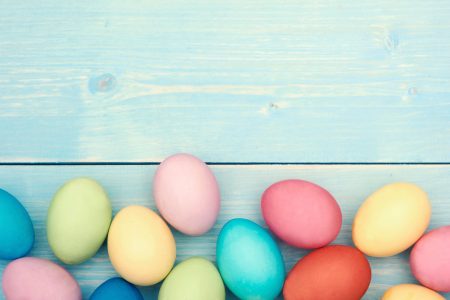 This one would make a great homeschooling lesson.  Over at the Reader's Digest they show how to dye eggs with natural dyes.  The colors are soft and subtle with a gentle touch of spring.  The possibilities for natural dye Easter Eggs is endless.
Tie-Dyed Easter Eggs
These eggs are trip down memory lane for this "Old Hippy" .  Over at Buns In My Oven blog, you can learn how to tie-dye eggs.  How do you tie an egg in a knot? Checkout this post – very cool!
Thread Wrapped  Easter Eggs – they're a good thing!
An easy idea from Martha Stewart.com, these have a home spun look, and will use up those short pieces of thread left on an almost empty spool. You could do the same thing with scraps of yarn.
Lace Easter Eggs
Another "good thing" from Martha Stewart.com, there's even a video where Martha Stewart shows you how to make these delicately decorated eggs.
Faux Faberge Eggs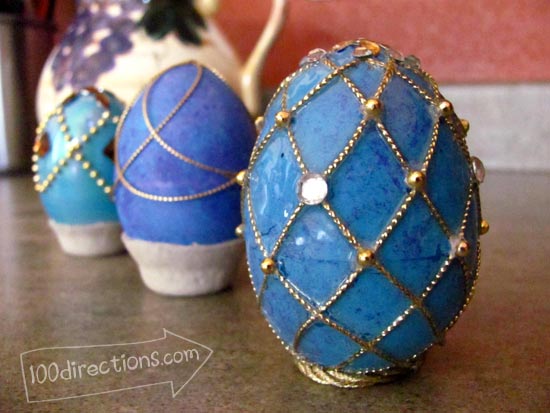 For this you do not need real eggs but instead Styrofoam eggs that you can find at the craft store.  Nice thing about these  is that you can keep them from year to year.  This is great project for tween girls who just love t bedazzle anything! From Jen Goode's 100Directions.com
Hot Rock Eggs
I found these at the Full Circle blog. I love the deep rich colors on these eggs. Made from melted Crayola Crayon wax, they are a project that is best left to older kids with parental supervision.
Easter Egg People
Easy and fun for the kids to make, try this tutorial from Mr.Printables.com.  With free printables, these make adorable decorations that the whole family can enjoy.  Wouldn't they make adorable place card holders for Easter Dinner?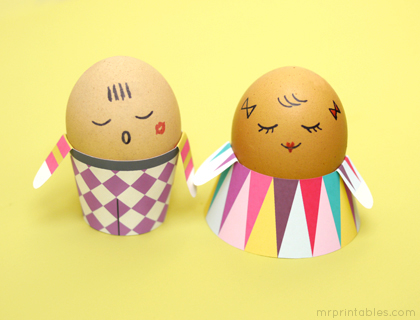 So get out the eggs, gather the kids around,  and make decorating Easter eggs a family tradition.
Happy Easter, from The Wilderness Wife.
More Wilderness Wife Easter Ideas –
This post was featured on the following blogs –