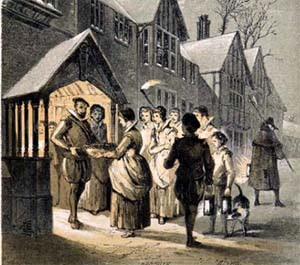 "Here we come a wassailing among the leaves so green"…….
Wassail is an English Christmas tradition, brought to the Americas by English colonists. In many colonial towns along the Maine coast from Kittery to Camden, the wassail bowl tradition was put to frequent use during the Christmas holiday by the more "substantial" citizenry. This is the New England traditional way of making a Wassail Bowl.
The ingredients:
a  dash of Grated nutmeg
2 cloves
1 tsp. Jamaican ginger
a blade* of mace
1 tsp. allspice
2 tsp. cinnamon
1 gill** of water
4 bottles of wine – claret, sauterne, burgundy, Vouvray are good choices
1 lb. sugar
12 eggs, separated
12 hot, baked apples
Put the nutmeg, cloves, ginger, mace, allspice and cinnamon in the water and bring it to a boil twice. To the boiled spice mixture, add the wine and heat over medium heat. Into the wine mixture, dissolve the sugar. Beat the egg yolks.  In a second bowl beat the egg whites till stiff.  Fold the egg yolks and the egg whites together, and then place them in the punch bowl. Remove the wine from the stove and pour it in to the punchbowl while whisking until the eggs and wine are combined in a light and frothy mixture. While the mixture is still foamy, add the baked apples.
* Mace  has an outside webbing that is peeled from the shell.  This is called the blade, probably taken from the way it is harvested.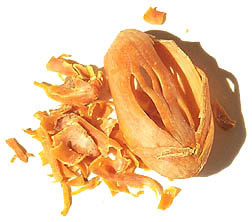 **Gill is an old English measurement term and equals 1/2  cup.