Slow Cooker/Crock Pot Recipes Basics
Starting today, I am instituting "Slow Cooker Saturday" here on The Wilderness Wife Blog featuring helpful slow cooker crock pot recipes and hints and delicious, easy slow cooker crock pot recipes. Whether you call it a slow cooker or you call it a crock pot, these are very handy appliances, and in my opinion, are not used enough in today's kitchen. For years, slow cookers aka crock pots got a bad rap with people believing that they produced mediocre, bland mush but that's a huge misconception. I love my slow cooker and am always developing slow cooker crock pot recipes because the slow cooker has so many advantages. For a working mom, it provides the opportunity to have a yummy meal ready for the table soon after coming home from work. And because of the busy family of today's varying schedules, your slow cooker can keep food warm so that family members can eat at different times as their schedules allow.  Lots of people think that the slow cooker is a "winter" appliance and push it to the back of the cabinet during the summer. But during the hot summer months, I love using my crock pot for baking bread, cakes, and desserts sparing me the agony of heating up the kitchen on a muggy sweltering day.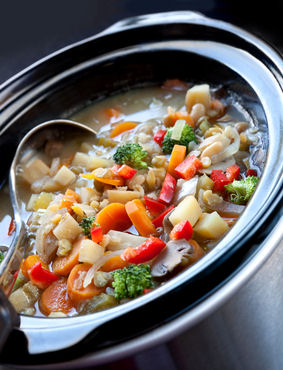 Slow Cooker Crock Pot Recipes Economics
Using your slow cooker is economical.  I was pleasantly surprised when I found this chart that compares the energy costs of different kitchen appliances on the Nourished Kitchen blog.
Comparable Energy Cost of Cooking Appliances
Appliance                Energy Cost Per Hour
Electric Oven                $0.30 -$0.60 Per Hour
Electric Range                $0.07 – $0.30 Per Hour
Gas Oven                $0.05 – $0.11 Per Hour
Gas Range                $0.04 – $0.08 Per Hour
Slow cooker Crock Pot                    $0.01 – $0.03 Per Hour
I had always considered my slow cooker crock pot a money saver as it can take the cheapest, toughest cut of meat and turn it into a tender, tasty delicacy and knowing that it saves a considerable amount of energy costs is just "frosting on the cake". Recipes for a slow cooker are simple and easy.  Most break down to cut up ingredients, put in slow cooker, turn on slow cooker, and set timer, and leave it to do its job.  So how can you lose using a slow Cooker when it is economical, time saving, energy saving, and produces delicious penny-wise meals? It's a win, win for today's busy families!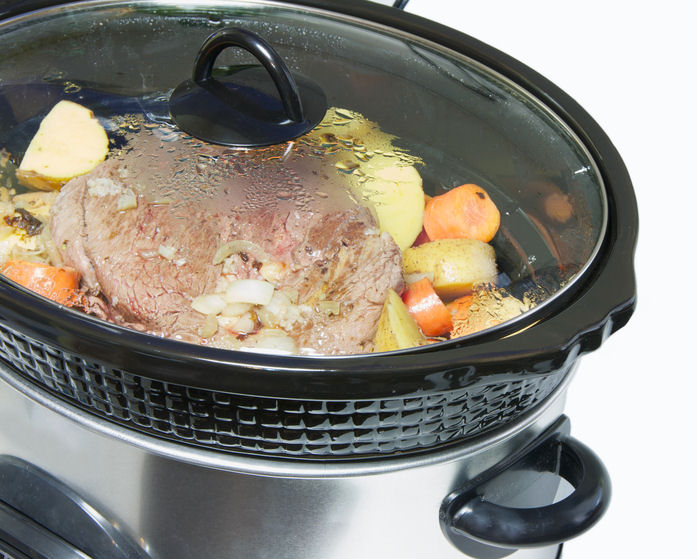 Slow Cooker Crock Pot Recipes Helpful Hints
Here are some helpful hints that I learned about slow cookers over the years –
If you have the storage room in your kitchen, have more than one. Sizes range from 1 ½ qts. (nice for hot dips) up to 10.5 qts.  I have three – a small 1 ½ qt., a 6 qt., and an 8 ½ qt. Each has its place in my slow cooker repertoire and all three come in handy on holidays. A large oval shape is nice for cooking a whole roasting chicken with vegetables – a complete meal prepared in one pot. It is important to use the right size slow cooker so it isn't overflowing or under-filled. If you are only going to have one slow cooker, a 5-6 quart size would be a good choice. Most manufacturers will tell you to fill the slow cooker 2/3 full but refer to your manual and resist the temptation to fill it to the brim.
When using your slow cooker, common sense tells you to clear the counter space around it.  It is going to get hot, and you are leaving it unattended.  I always leave a 6 inch "buffer zone" around it so the heat can dissipate.
Resist the urge to check your slow cooker by lifting the lid.  Each time you lift the lid heat and moisture escapes and will interrupt the cooking process.  Unless the recipe specifically calls for your adding additional ingredients later in the cooking process, "set it and forget it".
Although you can just throw the ingredients in the cooker and go, there is one trick that I use to improve the flavor and appearance of meats if I have a little extra time.  I heat a cast iron skillet, put in a tablespoon of olive oil, and sear/ brown the meat before I place it in the cooker. After placing the meat in the slow cooker, I then take the liquid called for in the recipe and use it to "deglaze" the skillet. Then I pour that liquid, which now contains all the caramelized brown morsels from the bottom of the skillet, into the slow cooker.  This will add another layer of flavor to the dish. Ground meats should be cooked in a skillet before adding, and be sure to "deglaze" the pan to get all the tasty goodness.
Vegetables cook more slowly in a crock pot than meat does.  For that reason, I always put the veggies on the bottom where they simmer in the liquid.  I then place the meat on top, which allows the drippings from the meat to add extra flavor to the vegetables.
Because the crock pot is closed during the cooking process, liquids don't boil away like they do when cooking on a stove top. If you are using a recipe that wasn't developed for the crockpot, reduce the liquid called for in the recipe by 1/3 to ½.  You don't have to make this adjustment if you are making a soup but otherwise you should reduce the liquid.
If your recipe calls for cayenne pepper or Tabasco sauce, be careful.  It is better to add these during the last hour of cooking as they can become very bitter when cooked for a long time. And be very careful with dairy products, adding then during the last ½ hour of cooking, unless your recipe states otherwise. I add my spices during the last hour of cooking as they will lose their flavor if cooked for a long time. If you are cooking seafood, add it during the last hour of cooking as it can become rubbery if cooked too long.  And be sure to completely thaw any frozen ingredients before adding them to the slow cooker.
I'll be featuring new slow cooker crock pot recipes each Saturday, and for more recipes also check out the Six Sisters Stuff blog – http://www.sixsistersstuff.com
Roast Whole Chicken Slow Cooker Crock Pot Recipe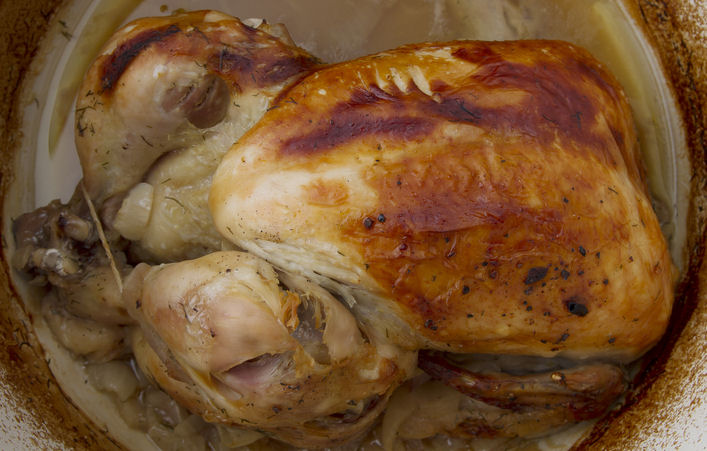 I party at:
Fluster Buster Fluster's Creative Muster