Shepherd's Pie …for the Mom on the go!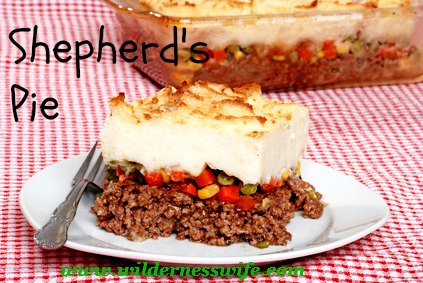 Shepherd's Pie…..where did it get that name?  No self-respecting shepherd would be caught eating ground beef and it's a casserole not a pie! Actually some foodie is going to point out to me in the comments section that today's version is different than the historical version.  So living in today's world, shepherd's pie  is the most forgiving dish and a blessing for Mom's everywhere who are on a tight schedule.  It's not fussy as to ingredients.  There are no advanced culinary techniques needed.  And it's a great way to get veggies into your kids.
Preparation is pretty easy.  All you need is a fry pan and a casserole dish for containers. If you can mash a potato and brown some ground beef you are on your way to culinary success. If you're short on time you can even get away with using instant mashed potatoes but it's better with the real thing!