Pot-Au-Feu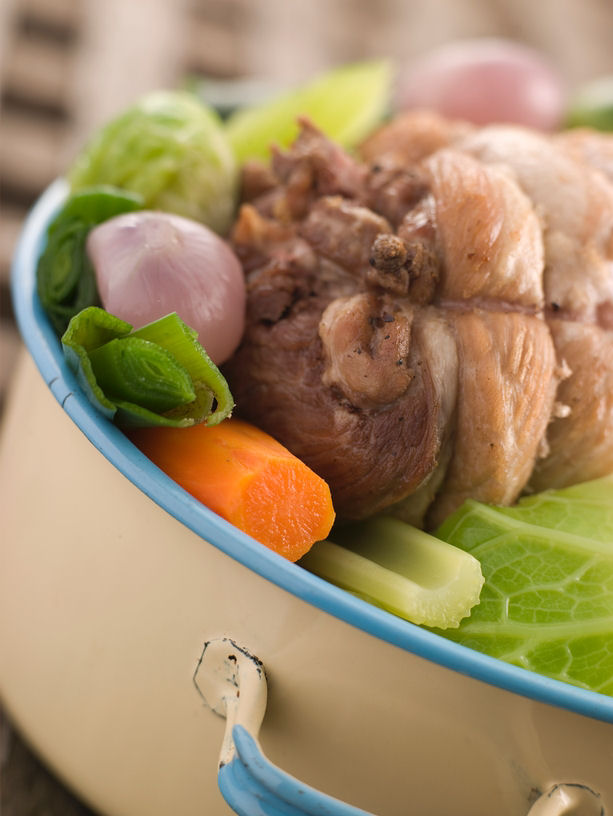 Here in the North Maine Woods the nights are getting chilly and the days are crisp and dry.  It's time to start thinking about fall and winter fair for the dinner table.  One of Bill's favorites is the French Canadian version of New England Boiled Dinner called Pot-Au-Feu.
This is an old Maine dish that has its roots in the French Canadian culture that came to Maine when a lot of French Canadians from Quebec emigrated to the manufacturing plants in central Maine and to the logging camps of the North Maine Woods in the late 1800's.  There are large Franco-American populations in the cities of Lewiston, Augusta, and Waterville to this day.  Maine cuisine is greatly influenced by these hard working people and their culinary heritage.  Pot au Feu translates to "pot on fire" and is a traditional rustic French stew.
Although the ingredients may vary, the basic formula is:
Meat – low-cost cuts of beef or pork that need long cooking to tenderize them and often a marrow bone or oxtail added to enhance flavor
Winter Vegetables – carrots, parsnips, turnips, potatoes, leeks, cabbage, celery, and onions;
Spices – bouquet garni, salt, coarse ground black pepper, allspice and cloves. 
The typical proportion is as follows:
4 pounds of lean beef
½ pound of pork belly
2 cloves
2 teaspoons salt
½ teaspoon coarse ground black pepper
1 bouquet garni
1 cups of diced turnip
2 cups of diced carrots
1 cup of diced parsnips
2 med. Onions sliced
1 cup sliced leeks
4 stalks of celery
2 cups of diced potatoes
1 med. Cabbage cut into eight pieces
Put the meat in a large Dutch oven with the water and heat slowly. Allow the meat to boil gently and as a scum forms on the water, remove it.  After skimming well, add all the spices and allow to boil slowly for 4 hours. Add the vegetables and allow to cook over medium heat for another hour until all the vegetables are cooked and you can separate the meat with a fork. Serve family style in a large pot or individually in soup bowls with a nice crusty bread, and mustard and vinegar as condiments.
What is a Bouquet Garni?
It's an herb bouquet made of sprigs of thyme, parsley, bay leaves, and celery leaves tied together with a string and suspended in a soup or stew to give it more flavor. It is removed before serving.
If you enjoy this recipe, could you give Wilderness Wife a "like" on our Facebook page – CLICK HERE