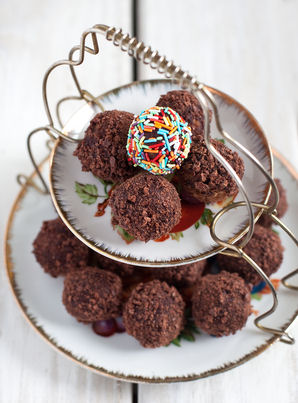 When I was a kid, one of the things I loved about the Christmas season was Nana's Christmas candy.  She would make an array of sweets that makes me drool just thinking about it. And I would sit on a kitchen stool and watch her perform her magic at the stove.  I learned a lot watching her cook that has given me a skill set that you can't get from reading cookbooks or even watching the Food Network. And fortunately I have a lot of her old recipes; some even written in her own hand that were passed down to me by my mother.  Family food traditions are wonderful and are the fabric of the way I celebrate the holidays. I'd like to share some of those Christmas Candy recipes with you.
Here are some of Nana's Christmas Candy Recipes.
| | | |
| --- | --- | --- |
| Almond Butter Crunch Wheels | | Print |
Prep time:
Cook time:
Total time:
These were so crunchy and filled witha sweet buttery taste! Holiday Happiness in a mouthful!
Ingredients
1 c. blanched, slivered almonds
½ c. butter
½. Sugar
1 tbs. light corn syrup
Instructions
Line the bottom and sides of an 8 in. round cake pan with aluminum foil.
Butter foil heavily.
Combine almonds, butter, sugar, and corn syrup in a 10 inch skillet.
Bring to a boil over medium heat, stirring constantly.
Continue to boil stirring constantly until the mixture turns golden brown, about 5-6 minutes.
Working quickly, spread the candy in the pan. Cool until firm, about 15 minutes. Remove the candy from the pan by lifting the foil edges.
Peel off foil, carefully cut into pieces and allow to cool thoroughly.
Cook time:
Total time:
Everyone raved about her divinity. It was one of her signature candy dishes.
Ingredients
2½ cups granulated sugar
½ cup light corn syrup
2 cups water
2 egg whites
¼ teaspoon salt
2 teaspoons vanilla extract
1 cup coarsely chopped walnuts
12 candied cherries, cut in half
24 whole pecans
Instructions
Over low heat, cook, stirring, until sugar is dissolved.
Cover; cook 1 min. or until sugar crystals on the side of the pan melt.
Uncover; bring to a boil over medium heat, without stirring, and cook to 234°F or until a small amount in cold water forms a soft ball.
Meanwhile, in a large bowl with an electric mixer at high speed, beat egg whites with salt until stiff peaks form.
Carefully pour half of the sugar – syrup mixture over egg whites in a thin stream, beating constantly at high speed until stiff peaks form; set aside.
Continue cooking the rest of the syrup mixture to 256°F or until a small amount in cold water forms a hardball.
Pour this remaining hot syrup into egg white mixture in a thin stream, beating constantly with a wooden spoon beat in vanilla; add walnuts, if desired.
Continue beating until mixture is stiff enough to hold its shape, about 5 min.
Quickly dropped teaspoonfuls onto waxed paper.
Top with cherries and pecans.
Allow to cool and store tightly covered.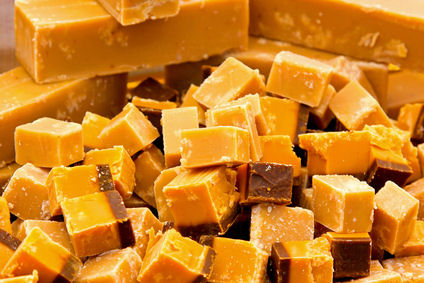 | | | |
| --- | --- | --- |
| Nana's Christmas Salty Caramels | | Print |
Cook time:
Total time:
Sweet annd salty, you can't eat just one!
Ingredients
1½ cups heavy cream
1 cup sugar
½ cup corn syrup
1 teaspoon vanilla
kosher salt
Instructions
Line an 8 in.square pan with foil and butter the foil.
Put sugar, syrup and ½ cup cream in pan and cook until it forms a soft ball when tried in cold water. Stir constantly.
Add ½ cup of cream and boil until mixture will again form a softball in cold water.
Add remainder of cream and cook until mixture makes a firm ball when tried in cold water.
Add vanilla. Pour into foil lined buttered pan.
Sprinkle the top with kosher salt.
Cool, cut in squares and wrap in parchment paper.
For chocolate caramels, use the preceding recipe and add three squares of chocolate with the last half cup of cream.
| | | |
| --- | --- | --- |
| Nana's Christmas Fondant Candy | | Print |
Cook time:
Total time:
This is a very easy recipe that will make some very elegant treats.
Ingredients
4 cups white sugar
1 cup hot water
pinch of salt
pinch of cream of tartar
1 teaspoon vanilla
Instructions
Mix sugar, water, salt and cream of tartar.
Place on heat, but don't stir.
Boil till mixture will spin a thread, or 238° on your candy thermometer.
Remove from heat and keep testing with your finger to see when it is cool.
Then add vanilla and beat until creamy.
Make into little balls and then press down with a spoon.
Put a walnut meat or a pecan on the top. Also delicious used to stuff dates.
| | | |
| --- | --- | --- |
| Nana's Chocolate Pralines Candy | | Print |
Chocolate and pecans....an excellent combination!
Ingredients
1½ cups sugar
1½ cups firmly packed brown sugar
¼ cup +2 tablespoons cocoa powder
1 cup whipping cream
¼ cup +2 tablespoons butter
1 teaspoon vanilla extract
2 cups chopped pecans, toasted
Instructions
Grease waxed paper; set aside.
Combine sugars and next to ingredients in a saucepan.
Bring to a boil over medium heat.
Boil until sugar is dissolved; stir often.
Cover; cook 2 min. to wash down sugar crystals from sides of pan.
Uncover and cook, stirring occasionally, until mixture reaches softball stage 234°F.
Remove from heat; stir in butter and vanilla.
Add pecans.
Beat vigorously with a wooden spoon 2 min. or just until mixture is creamy and begins to thicken. Working rapidly, drop mixture by tablespoonfuls onto prepared waxed paper; let stand until firm.
Store in an airtight container.
| | | |
| --- | --- | --- |
| Strawberry – Chocolate Truffles | | Print |
Author:
Family Circle Magazine
I found this recipe in Family Circle Magazine back in the 1980's. Not sure of author or specofoc date.
Ingredients
1 10 ounce package frozen sweetened strawberries, thawed
¾ cups whipping cream
4 (6 ounce) bars milk chocolate, coarsely chopped
1½ teaspoons vanilla extract
½ cup finely chopped almonds, toasted
½ c. cocoa powder
Instructions
Place strawberries in container of an electric blender; cover and process until smooth, stopping once to scrape down sides.
Pour strawberry purée into a saucepan; bring to a boil over medium-high heat.
Boil 20 to 25 min. or until reduced to ¼ cup, stirring frequently.
Stir in whipping cream; bring to a boil.
Remove from heat; let cool slightly.
Place chocolate in top of a double boiler; bring water to a boil.
Reduce heat to low; cook until chocolate melts, stirring constantly.
Stir in strawberry mixture.
Add chopped almonds.
Add vanilla and stir well.
Pour chocolate mixture into an ungreased 9 inch square pan lined with plastic wrap.
Cover and chill at least eight hours.
Cut chocolate mixture into 64 squares with a hot knife.
Working quickly, shape each square into a ball by rolling it on a piece of waxed paper.
Roll the ball in cocoa powder.
Store in refrigerator. Serve at room temperature