Creamy Butternut Squash Soup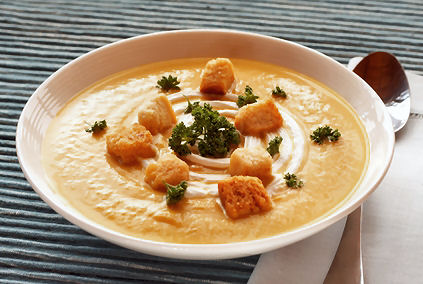 Try this Creamy Butternut Squash Soup Recipe for a fall evening pleaser!
This recpie for Creamy Butternut Squash Soup Recipe is one of our favorites.I love all the members of the squash/pumpkin family and I have a great collection of squash soup recipes.  They are one of my favorite chilly weather foods. The bright color, the texture, everything about squash screams warmth and comfort to me.  Over the weekend we had two miserable, grey, chilly, rainy days…..those days that just chill you right down to the bone! So come Sunday night Bill and I were ready for a warming bowl of soup. I grabbed one of the Butternut Squash that we had harvested from the garden and got a pot of soup simmering to lift our spirits.

If you enjoyed this post. please, please show your support – "like" The Wilderness Wife on Facebook or "follow" The Wilderness Wife on Twitter ( I promise that I am not a "twitter pest" and only tweet when there is a new post on the Blog). Thank you for your support!
This recipe was featured at: