Green is Good – especially when it's a Pistachio Muffin!
I love the pistachio flavor, be it in ice cream, pudding, or in the yummy results of this Pistachio Muffin Recipe.  The first time I ever had pistachio ice cream, as a kid, I thought it was maraschino cherry ice cream and they had got the color wrong.  To this day, pistachio "anything" reminds me of that wonderful ice cream sundae topping treat – the maraschino cherry!
I'm always looking for something different and quick for a breakfast treat, and when I found an easy muffin recipe that turns out moist, tasty, and easy to prepare I had to share it.  I originally found this on the Duncan Hines website.  It sounded so good and when I tried it I was hooked. Over the years I have changed it up a little with my own extra additions as I can never leave a recipe alone.  I love experimenting in the kitchen!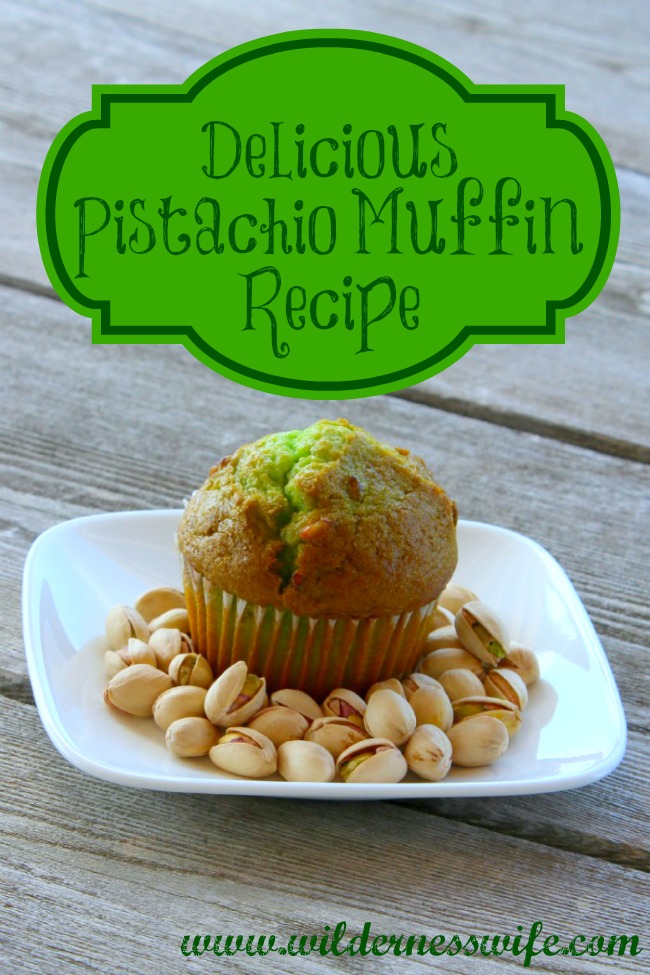 | | | |
| --- | --- | --- |
| Easy Moist Pistachio Muffin Recipe | | Print |
Author:
Adapted by The Wilderness Wife from Duncan Hines Website Recipe
Prep time:
Cook time:
Total time:
This yummy, moist, and easy Pistachio muffin recipe will become a family favorite - try it. They are great fun for St. Patrick's Day or Earth Day but I love them anytime of the year. Add chopped maraschino cherries or candied cranberries to make them a festive Christmas treat.
Ingredients
1 (18.25 ounce) box yellow cake mix
1 cup all-purpose flour
1 box pistachio instant pudding
½ tsp. cinnamon
½ tsp. nutmeg
1 tsp. lemon zest
4 eggs, beaten
1 cup sour cream
¼ cup water
¼ cup vegetable oil
½ tsp vanilla extract
½ cup + ¼ cup chopped pistachio nuts
1 tbs. sugar
Instructions
Preheat oven to 375F
Sift flour with cake mix.
Add instant pudding, cinnamon, nutmeg, and lemon zest and mix together thoroughly.
Beat eggs.
Mix eggs with sour cream, water, vegetable oil and stir well.
Add wet ingredients to dry ingredients and stir. Don't over-mix, batter can be a little lumpy as this is a quick bread.
Fold in ½ cup nuts.
Pour into greased muffin pan.
Mix sugar & ¼ cup nuts together and sprinkle on top of muffins.
Bake at 375°F for 5 minutes then 350F for 15-18 minutes.
Try these other muffin recipes by the Wilderness Wife –
Tasty Orange Cranberry Muffin Recipe
Muffin Basics –  One Recipe with 10 Variations