It's Grillin' Season – Shish Kebab Time!
Tonight we had Grilled Chicken & Veggie Kebabs and they were delicious. it's grillin' season, just barely,here in the North Maine Woods.  A long cold April-preceded by a long very cold winter made it seem like grilling weather would never arrive but finally I was able to fire up the grill last week. I love cooking on our Weber gas grill.  It's convenient, quick, and it doesn't require heating up the kitchen on a warm summer night.  My gas grill and my slow cooker are my "go to" appliances for the warm weather season.  And one of my favorite grilling foods is Kebabs. I have a few tricks to making great kebabs that I would like to share with you.
Marinate, Marinate, Marinate –

One trick to getting good shish kebab results is to marinate your meat.  There are a few reasons for this.  First, marinade adds a delicious flavor to the meat.  Secondly, it helps add moisture to the meat so it's nice and juicy when served. And third, it helps tenderize the meat by breaking down some of the fiber of the meat.  I put my marinade ingredients in a zip lock bag with the meat and let it marinate all day in the fridge. Keeping your meat cool in the fridge during the marinade process will keep food borne bacteria at a minimum. Take it out of the fridge and let it come to room temperature while still in the marinade on the counter while you set the table, fire up the grill, 

and

 get the veggies ready.  Thirty minutes at room temperature will help it cook more evenly. Discard the marinade – don't ever reuse it.
Size matters – Cut your meat in uniform pieces. 1″ – 2″ is a good size. Use meats that  have a firm texture. Fatty meats can cook quickly at a high temperature but leaner cuts should be cooked more slowly at a lower temperature. If using fish, be sure to use a firm textured fish such as salmon, tuna or swordfish. Light, flaky fish like haddock can fall apart during the cooking process.
Gas or Charcoal – I use a gas grill for convenience and quickness.  Just turn it on and you have heat, rather than having to wait for all the briquettes to turn to nice hot coals.  But I am the first one to admit that there is nothing like the smoky flavor that you get with briquettes.  My solution is that I keep hardwood chips, made from apple tree trimmings or firewood processing, in a square foil pan set on the grate that protects the gas burner. This grate is under the meat cooking grate.  I set the pan off to the side and toward the back of the cooking area so it doesn't block the heat.  As the cooking process continues the wood begins to scorch and gives off smoke that makes for a nice smoky flavor in my end product.  Be sure to use hardwood chips, not resinous conifer chips as the conifer chips would add a turpentine flavor to the meat.
Size matters….be sure to cut your meat into uniform sized pieces.
Soak your skewers – If you are using wooden skewers be sure to soak them in water so they don't burn up as quickly.  I soak the wooden ones all day in a dish on the kitchen counter, but if you're in a rush a soak of 30 minutes is the minimum to be effective.  I use the wooden skewers for the vegetables but I usually use metal skewers for the meat.  The veggies cook fairly quickly so the wooden skewers work fine but I use metal skewers on the meat because the meat takes longer to cook.  The metal skewers won't dry out and burn like the wooden ones, and also the metal transfers heat to the inside of the meat chunks so the meat is cooking from both the outside and the inside at the same time.  It helps cut down the cooking time for the meat and makes sure the meat cooks all the way through, particularly important with poultry.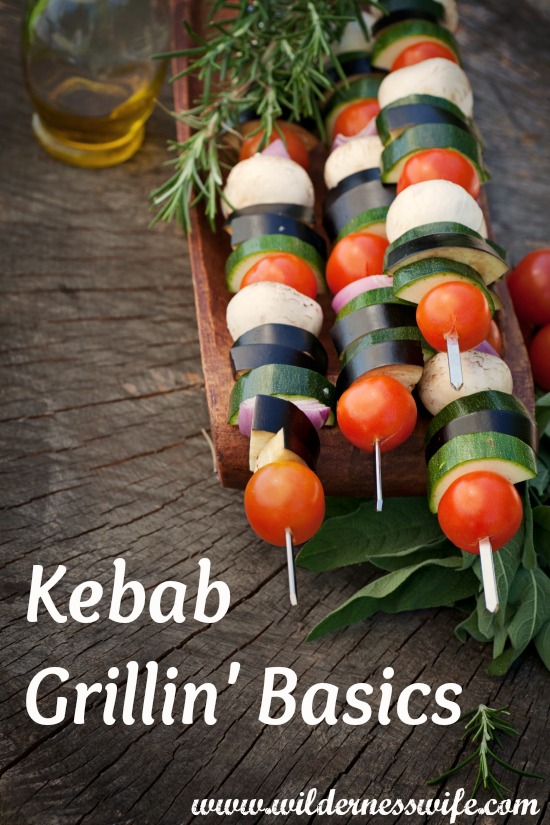 Separation is OK

– Cook your meat on one skewer and your vegg

ies on the other.  They cook at different temps and 

times so

 putting them on separate skewers is the only way to go.  Start your meat cooking first, and then put the veggie skewers on when the meat is half way through its cooking time.  I lightly parboil my denser vegetables like zucchini, carrots, or whole pearl onions before placing them on skewers.  That way they will cook all the way through when grilling with the less dense veggies like button mushrooms or cherry tomatoes. I do not marinate my veggies but instead I use a pastry brush to rush them with olive oil during the cooking process.  I love the pure roasted flavor of the veggies with the savory meat, rather than having the entire meal have the same flavor notes.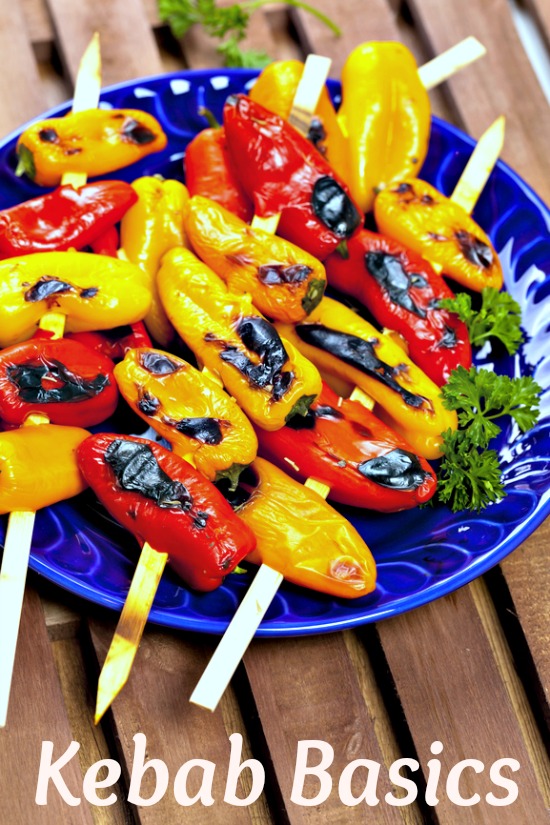 Print
Basic Kebab Marinade
You can take a basic marinade and add different notes to enhance the particular meat that you are using.
Author:
Prep Time:

10 mins

Total Time:

10 mins

Category:

Marinade

Cuisine:

American
Scale
Ingredients
1/2 cup

extra virgin olive oil

1/4 cup

freshly squeezed lemon juice

2 tbsp

. Worcestershire sauce

2 tbsp

. Dijon mustard

3

cloves garlic, minced

2 tbsp

. sugar

1/2 tsp

. freshly ground black pepper

1/2 tsp

. Kosher salt
Instructions
Add all the ingredients together in a bowl and whisk to combine.
Pour marinade into a quart zip-lock bag and add meat chunks.
Gently knead bag making sure to coat all meat pieces with marinade.
Place bag in refrigerator, allowing to lie flat for a minimum of 1 hour but better if done overnight or all day (approx.8 hours).
Dependent on the meat being used, complimentary spices and herbs such as ginger, paprika, thyme, basil, rosemary, etc. can be added.