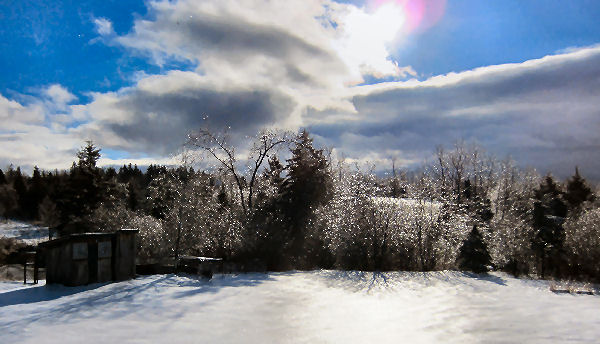 12/12/12 – A unique date…. And a unique morning.  This morning we awoke to a frosty paradise here in Northern Maine.  Yesterday's snowstorm turned into an ice storm at its close, leaving all of the North Maine Woods encrusted in a shimmering coat of ice.  The trees are sparkling like they are encrusted with diamonds as the sun peaks through the clouded sky. There's just a slight breeze that causes the melting ice to crack and fall to the ground.  I could hear the crackling all over the forest as I stood on the porch taking these pictures.  Wish you were here to enjoy the beauty in our "Winter Wonderland".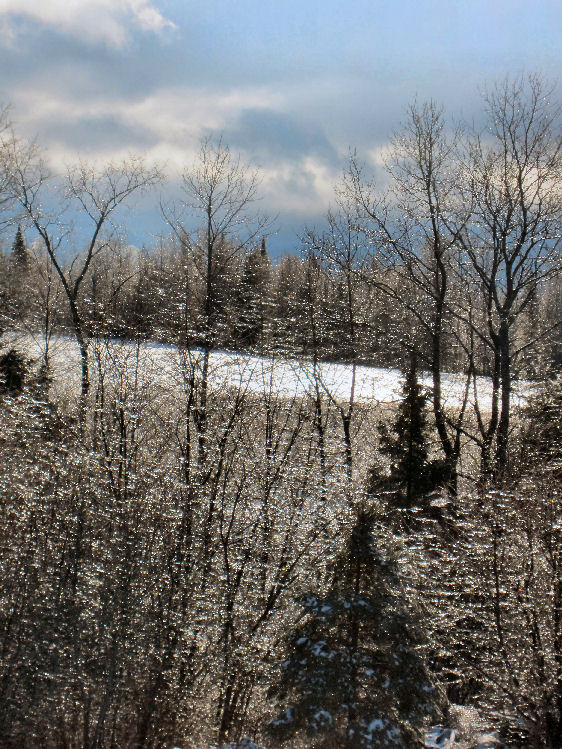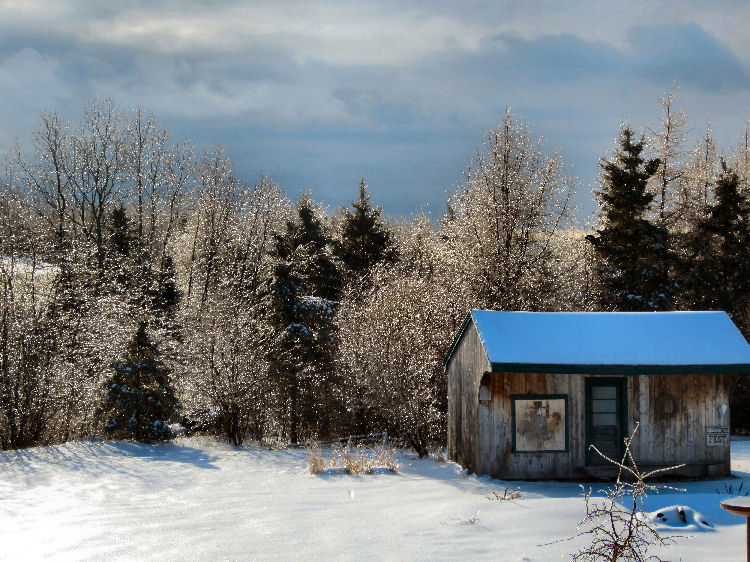 Last Wednesday Party had some wonderful entries with tons of information, fabulous pictures and some great Holiday spirit.
Last week's entry, Wild Rice Soup,  by Turnips 2 Tangerines blog was so yummy and easy! With the crummy weather during the snowstorm, it was just a soupy day.  I checked the cupboard and the fridge and I had all the necessary ingredients for Wild Rice Soup.  Yippee! I put a pot on to simmer on the woodstove!  Try this one! It was deeellllicious! Bill gave it an A+ (he's a soup nut!)
The Backyard Farming Connection had a great idea for reusing old faded, broken candles.  I am extremely frugal and hate to waist anything.  I have some really tacky old candles that I hate to throw away so they stay tucked away in the back of my hutch draw. Every time I reorganize that drawer, I try to throw them away and that cheap little voice in the back of my head says, "You can use them.  Don't waste them. The next power outage you'll be looking for candles."  When I saw the finished pic in The Backyard Farming Connectionpost I fell in love.  I have a candle holder similar to the one in the pic (mine has a mouse).  I loved the rustic quality of the candle.  It is perfect for our cabin's Lodge décor. So my project this week is to try to make those candles. I just love reading blogs.  You never know what cool things you will discover as you journey around the web.
Come on and join the fun. The Wicked Good Wednesday Blog party is on!
PARTY RULES:
1. Link to the specific post for something YOU have created – craft, recipe, DIY idea, photographs (and not to your main blog page). Please link something NEW each week and not repeat posts week after week.
2. No ads for link parties, Ebay and Etsy shops, giveaways, etc. please!
3. Be sure to spread the love and visit other blog posts and leave them a comment!
4. Help promote others – go to the original post of your favorites and PIN the most viewed link.
5. Please follow The Wilderness Wife on Twitter, or Networked Blogs, or Linky Followers, and we would love it if you gave us a "like" on Facebook.
6. Grab the "Wicked Good Wednesday" Button and link back here or create a text link on your blog. Please have the link to this party in your post or on your blog. If there is no link you will not be "featured" in next week's blog party review.