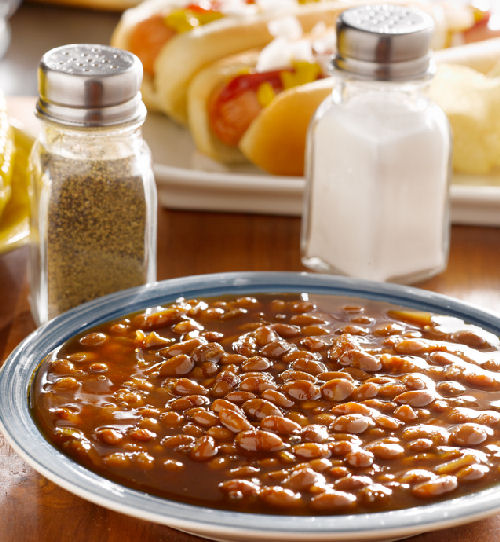 A classic Boston Baked Bean Recipe just like Grandma used to make!
Over a week ago, on a cold and windy Friday (just before Sandy blew threw) Bill suggested/requested that I make a pot of baked beans.  Bill is a guy who is all about comfort food. Recipes that his Nana or his mother used to prepare make his day! And he likes them "old school"! No modern day convenient changes in the recipe! I learned that lesson the hard way in our younger days when I made the monumental mistake of answering his request for "American Chop Suey" with the wrong ingredients. My family never ate "American Chop Suey" so I didn't know what the "regulation" ingredients were. After perusing a couple of cookbooks I came away with the impression that we were talking macaroni, hamburger, onion, and a sauce of tomatoes. Now our 3 boys ages 9, 10, and 15 were not big fans of stewed tomatoes as the recipes mentioned so I figured substituting spaghetti sauce would make it more to their liking. But for Bill it was a monumental game changer.  The dog ended up eating the American Chop Suey and we went out to eat! It seemed a little ridiculous to me but to Bill, I had defiled sacred ground.  Lesson learned!  To this day I don't stray too far from traditional recipes. Comfort food is an emotional event as much as an eating experience.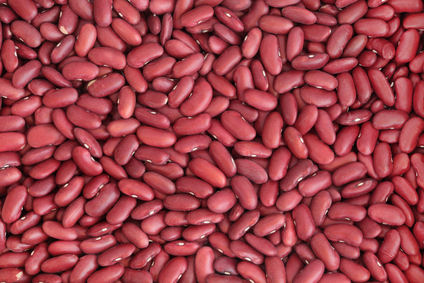 So for my baked beans I go traditional – Old school slow oven cooking in the bean pot.  We are in the process of remodeling the kitchen so the wood cookstove isn't hooked up yet.  That's the way I usually cook them. Get all the ingredients in the bean pot and tuck them in the back of the oven.  Run the woodstove "low and slow" and let the beans cook all day.  I check them periodically to see if I should add water but that's it.  They're a really easy dish to make and soooo much better than canned baked beans. Sorry, Duke but you can keep guarding the Bush family recipe! Cooking them in the woodstove also saves money. The wood energy gets to perform 2 tasks for the same price.  It heats the house and cooks the beans. But this time I put them in the electric built-in oven. Traditional baked beans are a long process. There's only one thing you can do to speed the process and that's at the beginning.  You either soak the beans overnight (12-14 hours) in cold water or you can wait till the next day and boil them in water for about 1 hour. The test for readiness "to bake" is to put a bean in a spoon and gently blow on it.  If the bean is boiled enough, the skin will come off the bean as you blow.  I do a combination of both.  I do the overnight soak and them boil them for about 20-30 minutes and then do the "bean skin test".
Now what to do with them….there's just Bill and I.  I no longer have three hungry boys to feed so an entire pot of beans seems to be with us for weeks  But I plan them into a couple of meals through the week. One night we'll have chili and another we'll have some chili dogs or baked ham and beans. There are lots of possibilities.  Beans go with a lot of things.   I freeze the rest for later consumption.  To freeze them, you just let them chill in the fridge and then put them in air tight containers. Be sure to mark the date on the container and use them in 3-6 months.  They'll taste as good as the day you made them.
So here's the recipe –
Print
Nana Smith's Boston Baked Beans
An old New England Saturday night favorite was baked beans and franks. Nana always served it with steamed brown bread. Here's her old recipe tried and true 100 years later!
Author:
Prep Time:

15 mins

Cook Time:

8 hours

Total Time:

8 hours 15 mins

Category:

VEGETABLE

Cuisine:

AMERICAN; NEW ENGLAND;
Scale
Ingredients
2 ½

c. dried beans of your choice (I like small beans but Bill loves kidneys)

¾

c. of salt pork (you can also use diced bacon or a small ham hock)

1

onion, diced

4

tbs. molasses

1 tsp

. salt

½ tsp

. coarse ground black pepper

½ tsp

. dry mustard

¾ cup

ketchup

1

tbs. worcestshire sauce

½

c. brown sugar
Instructions
Soak beans overnight in cold water. Simmer the beans in the same water for 30 minutes until tender and bean skins can be gently blown off bean. Drain and reserve the liquid.
Preheat oven to 325 degrees F (165 degrees C).
Take piece of salt pork and with rind side up, use a sharp knife and score the meat with cuts ½ inch deep making a crosshatch pattern. Sear the meat in a hot fry pan till it is golden brown. Place in the bottom of the 2 qt. Bean pot or covered casserole dish.
Arrange the beans on and around the salt pork and layering them with onion.
In a saucepan, combine molasses, salt, pepper, dry mustard, ketchup, Worcestershire sauce and brown sugar. Bring the mixture to a boil and pour over beans. Pour in just enough of the reserved bean liquid to cover the beans. Cover the dish with a lid.
Bake for 5 to 7 hours in the preheated oven, until beans are tender. Remove the lid about halfway through cooking, and add more liquid if necessary to prevent the beans from getting too dry. When I do them in the woodstove, I check the water level every time I stoke the fire which works out to about once every hour.
If you enjoyed this post. please, please show your support – "like" The Wilderness Wife on Facebook or "follow" The Wilderness Wife on Twitter ( I promise that I am not a "twitter pest" and only tweet when there is a new post on the Blog) or follow me on Pinterest. Thank you for your support!