Creamy Butternut Squash Soup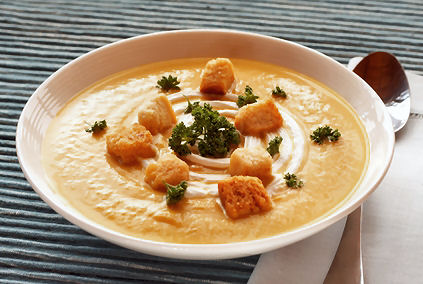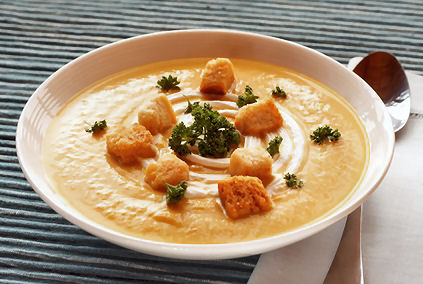 Try this Creamy Butternut Squash Soup Recipe for a fall evening pleaser!
This recpie for Creamy Butternut Squash Soup Recipe is one of our favorites.I love all the members of the squash/pumpkin family and I have a great collection of squash soup recipes. They are one of my favorite chilly weather foods. The bright color, the texture, everything about squash screams warmth and comfort to me. Over the weekend we had two miserable, grey, chilly, rainy days…..those days that just chill you right down to the bone! So come Sunday night Bill and I were ready for a warming bowl of soup. I grabbed one of the Butternut Squash that we had harvested from the garden and got a pot of soup simmering to lift our spirits.
Print
Creamy Butternut Squash Soup for a Souper Sunday Night Supper
Yummy and nutritious…butternut squash soup!
Author:
Yield:

8

Category:

Soup

Cuisine:

American
Ingredients
•1 large butternut squash
•2 tbsp. butter
•1 cup diced Vidalia onion
•6 c. chicken stock
•2 tsp. curry powder
•1/2 tsp. nutmeg
• 1 c. half and half (may use fat free)
•Salt and pepper
•Sour cream to garnish
•Croutons to garnish
•Parsley to garnish
Instructions
Peel 1 large butternut squash.
Cut squash in half and scoop out seeds and pulp.
Cut into 1-inch chunks.
Sauté diced Vidalia onion in 2 tablespoons butter until translucent.
Add cubed squash and simmer on low for 5 minutes.
Turn burner to medium and add 6 cups chicken stock, 2 tsp. curry powder, 1 tsp. nutmeg and simmer for 25 minutes.
Puree soup with an immersion blender until smooth.
Add salt and pepper, to taste.
Stir in 1 cup half and half or milk (more for a thinner soup).
Simmer on low heat for 5 minutes.
Garnish each bowl with a dollop of sour cream and some chopped parsley and crusty croutons.
If you enjoyed this post. please, please show your support – "like" The Wilderness Wife on Facebook or "follow" The Wilderness Wife on Twitter post on the Blog). Thank you for your support!