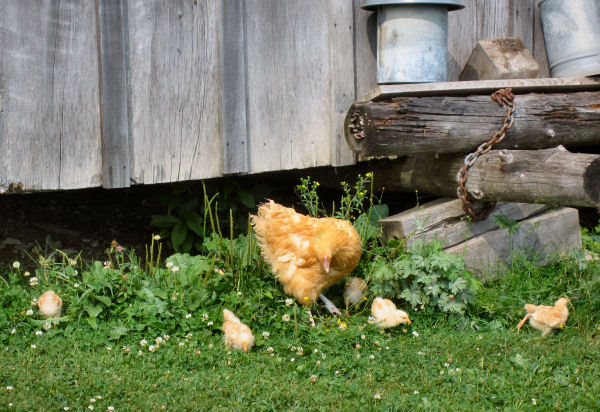 Maintaining a backyard flock of chickens has it joys – fresh eggs, great bug control, and comic relief.  That's the upside! But the major downside is the inevitable yearlong daily battle with predators.  "Chicken dinner" is the top menu item with a number of hungry villains that frequent our little paradise.  There's the hawks during the spring and summer; there are raccoons, bears, and skunks from spring thru fall; and year round we battle foxes, bobcats, weasels, coyotes, and eagles. Although we have a fenced in yard for the flock, I'm partial to letting them free range around the yard.  For one thing it gives them constant fresh material to forage in, and it helps keep the bugs down.  Personally, I feel the hen yard gets worn down and seems like a chicken "concentration camp" but Bill likes to keep them in.  His point is well taken as they are safer in there.  We have had foxes that are so cunning and bold that they would come right on the lawn while Bill was doing yard work and grab a chicken 30 feet away from him. This spring the chickens were free ranging in the yard and a harrier hawk swooped in and had a hen cornered under the pickup truck.  I heard squawking and cackling in the front yard and looked out.  There was the harrier, on the ground, pacing back and forth around the truck trying to get the chicken.  We have a pair of bald eagles that nest on our property and circle over head during the day looking for a free lunch.
This past week the culprit has been a raccoon, or more likely a family of them. The first incident happened 10 days ago.  Bill went to let the hens out for the day and collect the eggs, as he does every morning.  He found a hen dead and mutilated on the floor of the hen house. There is a small gap at the bottom of the door that leads into the hen yard, and I had mentioned that it concerned me, but he had blown it off thinking nothing could fit through it. When I pointed out it could have been a weasel, he patched that gap, disposed of the hen and thought everything was secure. Two nights went by without incident so he thought the problem was solved. Then another morning surprise with the loss of another hen and more heart break.  A "security inspection" showed another flaw in that door.  It hinges at the top and he secures it with a bar, but there was enough play that the "killer" could pry the door open about 2 inches and slide in.  I was still thinking weasel because it seemed like to tight a space for anything else.  But the crime scene forensics didn't match a weasel's MO. Weasels, as a rule do not eat the flesh but instead suck the blood out of their prey (I know…gross but living in the country has its realities).
Bill borrowed a HavAhart trap from a friend, who advised him the problem was probably a raccoon. We set the trap that night, and the next morning we had caught the culprit – a fat masked bandit peered up from the confines of the trap.  The little bandito was taken for a ride to a very remote area about 20 miles away and released hoping he will like his new surroundings and not return to the "Thompson KFC franchise". On the theory that where there is one raccoon there could be a family, we set the trap two more nights.  One night something did disturb the food but we figured it might have been the cat, which cleverly did not get caught. Our friend needed his trap back as he was having problems of his own.
Things were Okay and without incident for 4 more days.  Then last Tuesday morning Bill opened the little "Broody" house where we were keeping our hen and her newly hatched chicks.  The hen and every one of the babies were dead.  9 chickens lost. The culprit had snuck in through a tiny sliver of space by slipping his paw in through a hinged door and loosening the tied rope that held it shut.  We have borrowed the trap again and have set it two nights in a row and no success.  The bait was left untouched. Tonight we will up the ante with a hot dog added to the canned cat food we have been offering.  Bill is discouraged.  I am angry. We have one little family of a hen and 8 babies left and security has heightened around that precious brood.
This is difficult for me.  As a child, I had a pet Raccoon named Alberta, and I really loved her.  But that was then, this is now and I am after these marauders with a vengeance. We will try the trap a few more nights.  We have really secured the hen house well. Every gap filled, every lock reinforced, every door re-engineered to shut tightly. After we stop trapping, we will use a deterrent strategy.   Growing up, I remember my uncle who had a large farm next door had problems with raccoons in his corn field.  He used a method that was kind of funny – he would leave a portable radio in the field tuned to a talk radio station. It worked and kept the wary raccoons away. We'll try that one!  It might work!  I can imagine Rush Limbaugh might irritate a raccoon the same way he irks me. And rap music would definitely scare predators away….it does me! My latest issue of "backyard Poultry" has an ad for these new devices that have two red LEDS that turn on if motion is detected.  The invader perceives the red lights as being the eyes of a larger predator and is scared of.  They're only $19.95 so I might try one of those.  We'll let you know how it turns out!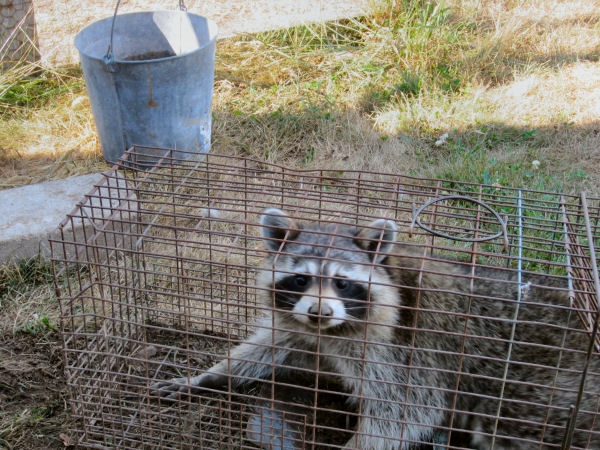 When I was searching the web for info about raccoons, under the theory of "Know your enemy", I found a T-shirt that had the following on it –
Advice from a Raccoon
Unmask your talents – Climb to new heights – Be curious – Look both ways before you cross the road –Avoid junk food – Always wash your hands – Enjoy the nightlife.
I thought it was cute even though I am not very fond of raccoons at the moment.