Somewhere in the world, those infamous "they" decided that June 15th is National Lobster Day! Don't ask me why because I haven't a clue. But I'd be willing to celebrate "Lobster Day" any time.  Lobster and turkey are my 2 favorite foods.  Every year Bill and I head down to the coast to Machias, Maine to have Lobster Rolls at the Bluebird Ranch. They have the best Lobster Rolls I have ever had.  Just yummy! And their Lobster Stew is to die for!  Heaven in a bowl!
Now I know that not all of you out there in Internet Land have the option of riding to the Maine Coast to get fresh lobster like we do but if you are hankering for the real thing, a little company here in Maine ships them fresh from quaint little Cundys Harbor, near Topsham Maine.  They call themselves The Hancock Gourmet Lobster Company and they ship a quality product. In fact they have a number of fully prepared treats form Smokes Scallop Lobster Stew to Pemaquid Point Lobster Pot Pies. In fact you can get a complete Maine Clam Bake for 2 shipped anywhere in the US.  And they get rave reviews from us and other customers.  We use them to ship Lobster to friends and family. So click on this link to check out all of their fare that they sell through Amazon.com – Live Maine Lobster
Now once you have your Lobsters, here are some of my favorite Maine Lobster Recipes.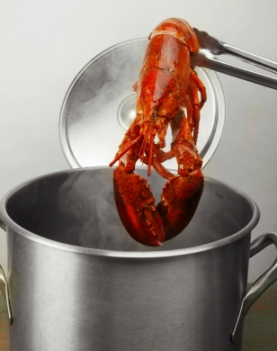 Boiled Lobsters
This is the quickest and easiest way to cook lobster.  Some people are a little squeamish about putting the live lobsters into boiling water but that's the way it's done. It does help to put the lobsters in the freezer for about 15 minutes before you cook them.  This slows down their metabolism and makes them easier to handle when inserting them into the pot. They tend to flail their front legs around if you don't sometimes bracing them against the lip of the pot.  Lobster wrestling is not fun!
Plunge live lobsters into kettle of boiling salted water, head down.  Cover and boil for 20 minutes.  They die very quickly and they do not make any noises. (The first time my faint-hearted mother was going to cook lobsters, my big tease father told her that they would scream when they touched the hot water. They don't! ) Remove from the water and serve whole with a side dish of drawn butter. Nutcrackers are a handy tool to include in your place setting, and also an empty soup bowl to put cracked shells. It can be a messy meal so lobster "bibs" are a nice addition too.
How to Kill a Lobster prior to Cooking –
Quicker yet is to plunge the tip of a sharp knife straight down right behind the lobster's eyes. There is a spot about an inch and a half behind the lobster's eyes.  It is a sort of line of demarcation in the shell.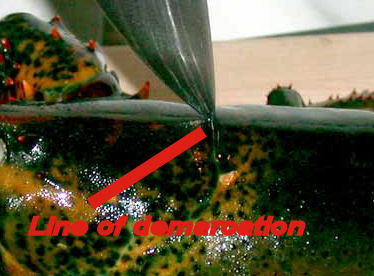 Hold the lobster by the area where the tail meets the body, pressing the body against the cutting board.  Take a sharp chef-style knife and insert it into the shell at that spot.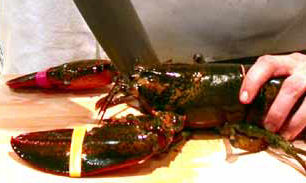 Cut through the shell bringing the knife down between the eyes.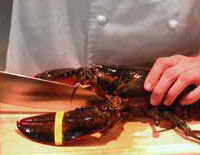 Cut all the way through the head down to the cutting board. You can then steam, boil, broil, or stuff the lobster as you would like.
Lobster Thermidor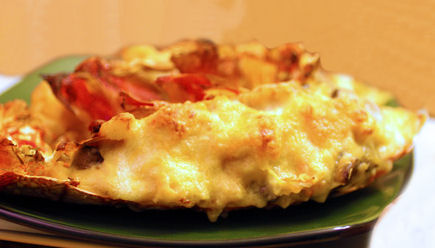 This recipe was given to me by an old friend, Helen Stella, and was a popular way to prepare lobster back in the 1970's.
1 c. of cracker crumbs combined with ¼ stick of melted butter
2 tbsp. of chopped onion
½ c. of sliced button mushrooms
2 tbsp. butter
2 tbsp. flour
¼ tsp. salt
1/8 tsp. pepper
1/8 tsp. paprika
½ c. heavy cream
½ c. chicken broth
½ tsp. Worcestershire sauce
1 egg yolk
1 Tbsp. cooking sherry
2 c. cooked lobster meat
Preheat your oven to 450. Sauté the mushrooms and onions in butter.  Mix the flour and the seasonings together and then stir them into the onions and mushrooms.  Cook over low heat till bubbly.  Remove from heat and add cream, chicken broth, and Worcestershire sauce while stirring constantly.  Put back onto heat and stir until it just comes to a boil. Boil for 1 minute Beat the egg yolk and then add a bit of the hot liquid to temper the egg yolk. Add the egg yolk and the sherry to the hot mixture stirring to combine. Add the lobster and pour into a lobster shells or individual baking dishes and top with 3 tbsp. of buttery crackers per individual dish. Bake for 5 minutes to brown the cracker crumbs a little.  Do not overcook as lobster is a very delicate meat and becomes tough when overcooked. Serves 6
Lobster Newburg
2 c. chopped lobster meat
2 tbsp. butter
½ c. sherry
1 c. cream 2 egg yolks, slightly beaten
¼ tsp. salt
1/8 tsp. cayenne
Toast points
Cut lobster meat in small pieces and cook in butter for 3 minutes; then add wine and cook another 3 minutes. Beat egg yolks and cream; stir slowly into the lobster and continue to stir until the mixture thickens.  Add seasonings.  Do not overcook, as the sauce will curdle. Serve over toast points with a crisp salad.