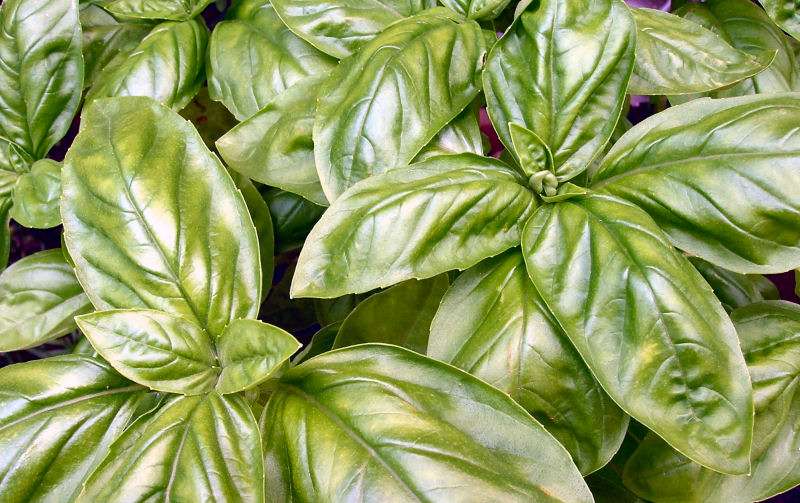 Today I have been contemplating Basil. I love Basil.  I love the color of it. I love the shape of its leaves.  I love the color of it.  I really love the aroma of it. And most of all, I love the taste of it. Of all herbs and spices, to me Basil brings more to the table (literally) than any other. Take pesto, whose primary ingredient is Basil. You can spread that on anything (well almost anything) and doesn't just become palatable but exquisite.
I have made up my mind! This year I am planting Basil.  Because of the remoteness of where we live, fresh herbs are near impossible to get unless you grow them yourself. If they do have them at the market in Patten, the herbs are in little plastic containers and are usually wilted and limp.  So today I ordered Basil seeds.  My research tells me that it should be fairly easy to grow.  It's a member of the mint family (that mint family has to be the royal family of herbs – spearmint, catnip, basil! It's got my vote.)  I have a nice place to plant it by the southwest corner of the cabin. They will get sun most of the day and from what I have read, they love the sun, and they like a mildly acidic, average to rich soil.  So that will be a perfect spot. Basil doesn't take long to take hold.  The Basil plants will be a decent size in 10 weeks.  And Basil doesn't  mind living indoors so at the end of the summer I can pot them up and put them on a shelf in front of the den patio door where my fragrant little Basil plants will get the winter sun all day.  And I will have fresh Basil every day.  I can't wait to make my first batch of pesto with real fresh basil.
I'd love to share my favorite Pesto recipe with you –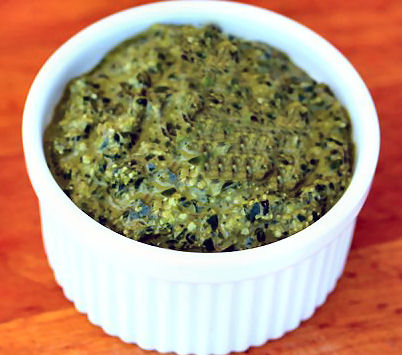 Fresh Basil Pesto Recipe
Making pesto is very quick to do.  In fact this recipe shouldn't take you longer than 15 minutes.  The recipe makes about 1 cup.
Ingredients:
2 cups fresh basil leaves, packed
1/2 cup freshly grated Parmesan-Reggiano cheese
1/2 cup extra virgin olive oil
1/3 cup walnuts (you can also use pine nuts, same amount – walnuts are mine and Bill's favorites)
3 medium sized garlic cloves, minced
Salt & pepper to taste
Chop your walnuts in your blender or food processor for about 3 or 4 pulses. Add the basil in with the nuts, and pulse a few times.  Add the garlic cloves, and pulse a few more  times.
Now slowly pour in the olive oil in a constant stream while the food processor/blender  is on. Stop and scrape the sides of the food processor with a rubber spatula. Add the cheese and pulse again until blended. Add salt and freshly ground black pepper to taste.
Pesto can be served in so many ways. Tossed with pasta, and it's yummy on baked potatoes with some sour cream.  Mix it with some sour cream for a delicious and addicting dip. I put as a topping on a multi topping pizza –the best pizza you'll ever eat. I spread it on buttered baguette slices and then sprinkle with grated mozzarella cheese and place under the broiler till toast and brown.