Best Chicken Piccata Recipe – Yummy and Simple!
Chicken all by itself is a rather bland meat and dependent on sauces, marinades, and spices like in this Chicken Piccata Recipe to make it taste divine. Chicken Piccata can be cooked and on the dinner table in a half hour so it doesn't get better than that the time strapped cook. Its a quick, easy, an incredibly easy entrée to prepare.  And Chicken Piccata is an economical chicken recipe giving you economy, ease, and efficiency.  Dads will love it, kids will love it and Mom will love the rave reviews she will get from the family after serving Chicken Piccata.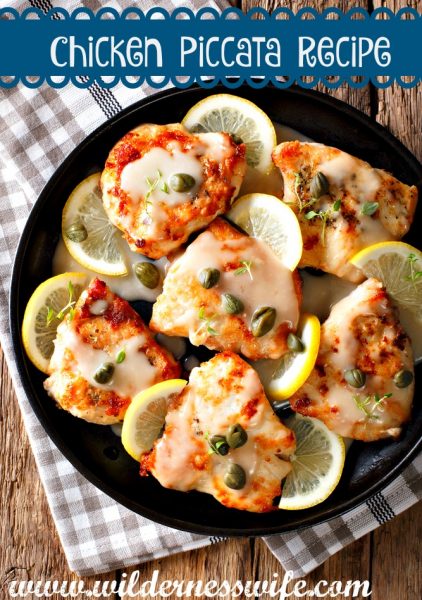 How to Prepare Chicken Piccata
To prepare Chicken Piccata you will need one boneless chicken breast for each person. Take a sharp knife and "butterfly" the breast cutting it in half horizontally. Then separate the 2 pieces to create two cutlets. They need to be thin so that they cook quickly and evenly so you don't want them thicker than 1/4 to3/8 of an inch.  If I need to thin them I place the breasts between two sheets of wax paper and beat them with my rolling pin to the desired thickness.  This step also guarantees them to be very tender. In a large skillet (I love using my cast iron skillet) or sauté pan, melt butter in olive oil over medium heat. Season the chicken cutlets with kosher salt and fresh ground pepper and then dredge them in a mixture of salt, pepper, garlic powder, finely grated parmesan cheese and all-purpose flour. Cook them in the pan in the butter/olive oil 3 minutes on each side. Be sure not to crowd them in the pan so the chicken breasts can cook thoroughly and evenly. When done, remove the chicken breast cutlets to a sheet pan and place in preheated oven for 5-10 minutes while you prepare the sauce. You make the sauce, in the same pan, by adding chicken stock (or wine), lemon juice, and capers. Be sure to stir thoroughly to deglaze pan and mix all the tasty brown bits of goodness into the sauce. Simmer to reduce the sauce by half. Add the last two tablespoons of butter and whisk into sauce. Serve the chicken with the sauce poured over it and fresh chopped parsley sprinkled on it.