Fluffy, Flaky and very Tasty Grammy Mouse Biscuits – a basic Biscuit Recipe!!!!
Grammy Mouse biscuits…..you're wondering who the heck is Grammy Mouse? I was given the nickname Mouse years  ago and my husband and my sons still call me Mouse.  Now I didn't get that name because I had a shy and retiring personality.  No, it came form my constantly rescuing and rehabbing the tiny deer mice that our cats would catch under the bird feeder.  I would snatch them from the jaws of doom, bring them in the house, administer first aid and nurse them back to health.  I did that for years until hantavirus was all over the news.  When all those people in the Southwest started dying of this killer disease spread from little deer mice, my days as a "mouse rescuer" ended abruptly. But I have gone to far afield here – back to the subject at hand….. How to Bake BISCUITS.
Baking Biscuits from Scratch is easy using this Basic Biscuit Recipe!
It seems like nobody makes biscuits from scratch any more.  Everybody wants to keep the giggly Pillsbury Dough Boy gainfully employed so they keep making their biscuits from those refrigerated cans. But homemade biscuits from scratch don't take that much longer, and they are so worth the effort.  Homemade biscuits are absolutely delicious.  And they are more economical the ones from the dairy case and there are ways to speed up the process with a little organization and forethought. Homemade biscuits warm a man's heart like nothing else.  As the Pillsbury Dough Boy says, "Nothing says lovin' like something from the oven", and trust me girls, Biscuits say it best.  Bill becomes putty in my hands as the aroma of baking biscuits wafts through the air. And of all the  quick baked "breads", biscuits are the easiest, quickest, and most versatile. A good basic biscuit dough, and a little creativity and there is no end to what you can come up with….savory, sweet, dessert, crust, side dish, appetizer. Biscuits are best! So here I am going to give you my very basic biscuit recipe and then as time goes on I will add variations to this recipe. And show you how very versatile it is.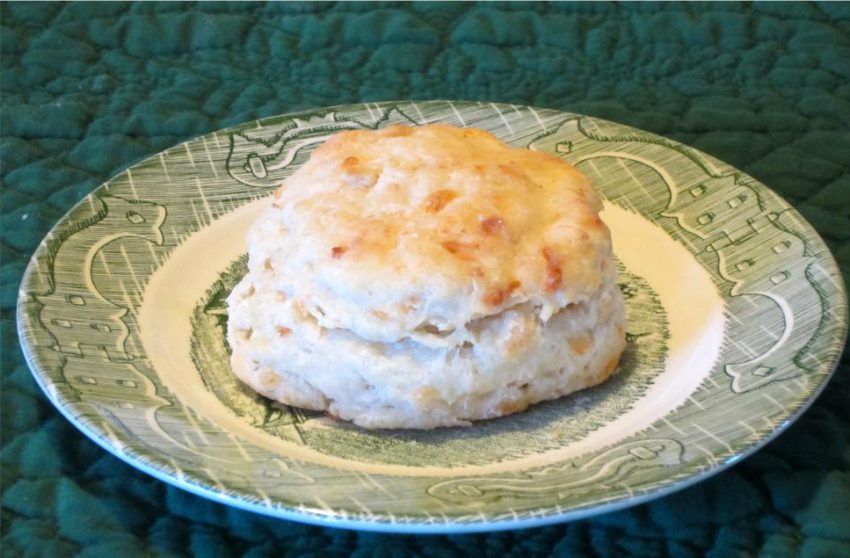 Grammy Mouse Easy Moist Flaky Biscuits Recipe
Oven preheated to 425 degrees. Ingredients: 2 cups all-purpose flour plus a tablespoon or to for dusting the surface you will be rolling them out on 1 stick chilled butter cut in chunks 1 tablespoon of Baking Powder  (helpful baking hint- Use a baking powder that doesn't contain aluminum. It does make a big difference.  The aluminum ones will give your baked goods a faint metallic taste. Rumford Baking Powder is an excellent choice.  If you can't find it at your local store you can but it online at Amazon.  Here's a link, just click on it and it will take you there – Rumford Baking Powder) ¼ tsp. baking soda ½ teaspoon of salt 1 c. buttermilk approx. (If you don't have buttermilk, you can use the same amount of milk)
Combine the dry ingredients in a bowl and mix them thoroughly (a whisk is a very handy utensil to mix dry ingredients as it will help to break up any lumps and will distribute everything evenly).
Cut the butter into ½" chunks and add to the flour. Using a pastry cutter, cut the butter into the flour until it resembles coarse meal. (Don't have a pastry cutter, you can use two knives and literally cut the butter, but you should invest in a pastry cutter.  They make the pastry process so easy and they are not that expensive. Here's a link to the one I use. I got it on Amazon. Click here – pastry cutter.)
Add the buttermilk and mix JUST until combined.  (You want the dough to stick together in a ball and be moist, but not too wet. Do not overmix.  The secret to getting tender biscuits is not to work the wet dough too much.  The more you mix and handle it, the more the gluten develops, thus making the biscuits tougher.  The less you handle the dough at all stages, the tenderer the biscuits will be in the end.)
Turn the dough out onto a floured surface and shape gently into ball. (Remember that over handling will cause tough biscuits.  The less you manipulate it, the better, more tender, and flakier your biscuits will be.)
Gently PAT the dough out until it's 1" thick. (Remember gentle handling of the dough.  For this reason it is best not to use a rolling pin.)
Use a round biscuit cutter to cut the dough into biscuit. Rubbing flour onto the biscuit cutter will help the biscuits not stick to the cutter. If you need a cutter, here's a link to a nice set of 4 that gices you every size you will ever need. Click here -Biscuit cutter
Knead the scraps together and make a few more, but  these will not be a :pretty" as the first one's cut (tasty but sort of mutant in appearance) .
Place the biscuits on a cookie sheet. If you want them to have soft sides, place them touching each other, but if you want crisper sides, then space them about 1-2" apart.
Bake for about 10-12 minutes. Do not overbake them.  They should be lightly golden on top.
The dough must be handled as little as possible or you will have tough biscuits.
That's it….just a simple as that. Serve them with butter and jam on the side….a great breakfast treat!