Part 1 – Dandelions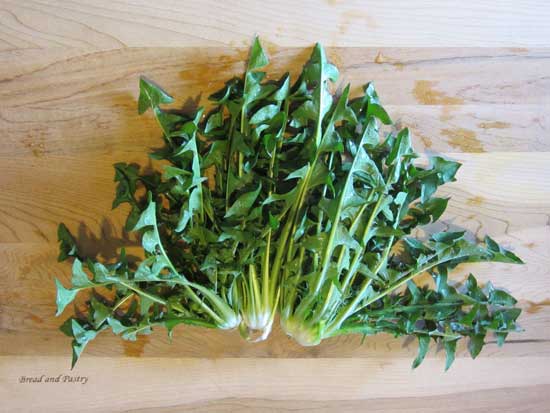 As the snow creeps back from the fields and melts along the stream shores, two favorite Maine delicacies appear – dandelions and fiddleheads. Bill spotted the tender fronds of young dandelions in the yard today so guess what's on the menu for supper tonight. Like many things dandelions are an acquired taste but if you like spinach and beet greens, you'll most likely enjoy dandelions too. They are very good for you; in fact, I've been told that they are one of the most nutritious of "vegetables". If you compare a cup of dandelion greens to a cup of broccoli, the dandelion greens have 4 ½ times the Vitamin A, twice the amount of Vitamin K, twice the calcium and three times the iron.  Cost-wise they are as cheap as it gets because they are free.  Even if you don't have a yard, who is going to object to you pulling a few weeds from a vacant lot or park ( I would steer clear of a dog park …lol)? Nutritious, available, and free…. It doesn't get better than that!  Now I also mentioned fiddleheads but they are another week or so away from being ready to harvest so I'll post about them later.
So let's talk dandelions.  This is what they look like in the wild.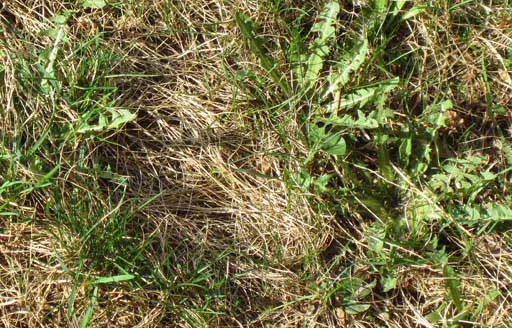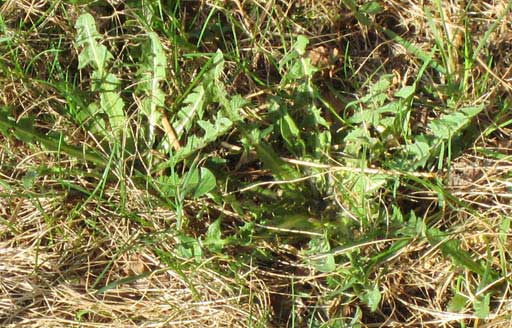 First, bypass any plants that are flowering or have started the process.  They are going to be tougher and more bitter, and not as nutritious as most of their energy has gone into the process of producing a blossom.  The blossoms themselves can be good for making wine and a few other things but these older greens aren't "Good Eats" as Alton Brown would say.
Dandelions  are very easy to harvest. You can just pull them up.  They will have a long tap root that you will discard later (the tap root can be very bitter although some people use them in herbal medicine). Or you can insert a sharp knife just below the crown (see photo below) and cut, freeing the crown and greens from the tap root. The crown sits atop the taproot and includes the young buds and the tenderest leaves.  You will need to rinse the greens thoroughly with cold water to get rid of sand and any insects.  I like to submerge them in salty water for a few minutes as that will get rid of any bugs.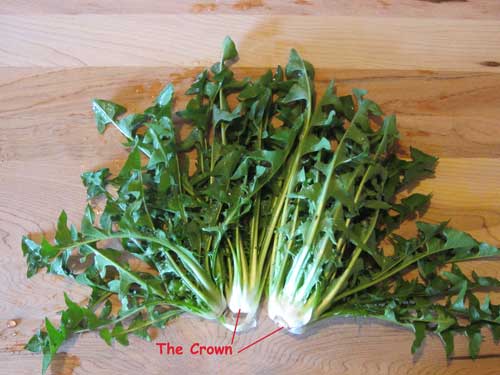 Dandelions can be eaten raw or cooked.  The raw greens can be eaten as a salad alone or added with other greens and will give a strong, peppery note. Usually they are torn or cut into 2 – 3 inch pieces and tossed with whatever dressing or vinaigrette you choose.
The easiest and most common way to cook them is to boil them, just like spinach or beet greens.  Leave the crowns attached to the leaves as the crowns are very nutritious and tasty.  Put them in a pot of boiling, salted water (the salt will help reduce the bitterness) and cook for about 10 minutes until the center rib is tender. Serve just as you would spinach or beet greens with butter, salt and pepper.
Here are some more recipes for dandelion greens:
Sautéed Dandelion Greens
Ingredients:
•1 pound dandelion greens
•1/2 cup diced onion
•1 clove garlic, minced
•1/4 cup olive oil
•salt and pepper
•Grated Parmesan cheese
Preparation:
Wash greens well in salted water. Cut leaves into 2-inch pieces. Cook greens uncovered in small amount of salted water until tender, about 10 minutes. Sauté the onion and garlic in olive oil. Drain greens and rinse with cold water thoroughly in a colander (this will stop cooking). Be sure to press out all excess moisture and then add to onion/ garlic mixture. Cook for about 4 minutes, occasionally stirring to coat with oil and heat through. Season them to taste with salt and pepper. Serve with grated Parmesan cheese.
DANDELION GREENS COOKED WITH SALT PORK
3 lbs. greens
1 tsp. salt
3 inch piece salt pork, cut in to 1inch cubes
Put greens, salt and salt pork with enough water to cover and an inch more, in a large pot.
Bring to a boil and reduce heat – simmer for an hour. Drain well and serve with butter, cider vinegar and salt and pepper to taste. What a tasty dandelion greens recipe.
WILTED DANDELION GREENS RECIPE 
1 lb. of dandelion greens
4 slices bacon
1/2 onion, chopped
1TBS sugar
1 TBS cider vinegar
½ tsp. salt
1/4 tsp. ground black pepper
Grated Parmesan cheese
In a skillet on medium-high heat, fry the bacon until crisp. Remove from pan, drain ,crumble , and set aside.
Add the chopped onion to the bacon grease and sauté onions until translucent.  Add the sugar, vinegar, salt and pepper to the bacon fat and onion and heat till it starts bubbling.  Add the dandelion greens and cook for until they are wilted (3-4 minutes). Transfer to serving  dish and sprinkle with the crumbled bacon and Parmesan cheese before serving.
Try them, you may like them, and remember they're good for you too!!!